Upcoming Flute Events
On This Page
---
Flute Courses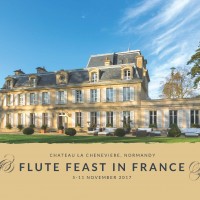 Sunday, 5 November - Saturday, 11 November
Where? Chateau La Chenevière, Port-en-Bessin, Normandy, France
Join Paul Edmund-Davies, Elisabeth Hobbs and pianist John Alley for an exceptional flute experience in France. Flute Feasts are renowned for their friendly atmosphere, fine food, champagne, luxurious accommodation and fascinating excursions - all combined with the very best in flute playing. Strictly limited to 12 participants (partners welcome), you will experience individual lessons with Paul and Elisabeth, piano coaching with John, ensemble playing, chamber music, and fine concerts. Daily champagne tastings are a highlight! The course concludes with a public concert in the Bishop's Palace of Bayeaux Cathedral, followed by a gala dinner hosted by the Friends of the Cathedral Museum. Finally - a very special guest will also be joining us. US Astronaut Cady Coleman (who even took her flute to the space station!) will be with us as a participant, and will share her experiences with us. Truly an unmissable opportunity to find "Space for your Flute" in your life!
For full details visit www.flutefeasts.com/normandy.
Visit event website (Opens in a new window)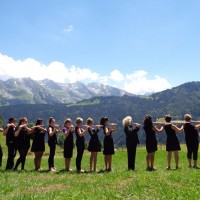 Sunday, 29 July - Saturday, 4 August
Where? Le Chinaillon,
Le Grand-Bornand,
FRANCE

Set in the stunning French Alps, our tutor Andrea Kuypers will lead a fun and friendly week of workshops, masterclasses, ensembles and informal performances.

We welcome flautists of all ages. Applicants should be minimum Grade 4 standard through to Diploma.

The course will encourage and inspire developing flautists in a relaxed environment where the emphasis is based on success through enjoyment.
It won't all be work... there will be plenty of time to relax and enjoy the spectacular alpine scenery.
For full details, and to book online, visit www.flutesdusoleil.com.
Get £50 off all places if you book before 31 December 2017.
Visit event website (Opens in a new window)

Further information: PDF file
---
Flute Days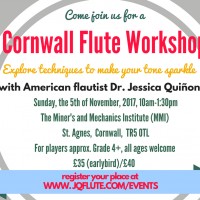 Sunday, 5 November, 10:00 - 13:30
Where? The Miner's and Mechanic's Institute (MMI)
18 Vicarage Road
St. Agnes
TR5 0TL
Join us in Cornwall this Guy Fawkes Day for a half-day flute workshop.
Explore tips and techniques to make your tone sparkle (just in time for the fireworks later on!)

A half-day flute workshop with Dr. Jessica Quiñones (www.JQflute.com)

Description: If you've always wanted to tap into a beautifully resonant flute tone but are not sure how, then this flute workshop is for you! Spend a morning with American flautist and teacher Jessica to learn techniques to simplify the mystery of a stunning tone no matter which genre you play. Replace tone development dread with confidence and delight. Learn contemporary flute techniques that will help you refine, strengthen and deepen your understanding of the tools needed to create resonance in your playing. We'll go beyond 'just playing long notes' and delve into topics such as extended techniques, vibrato, dynamic control and breathwork.
At the end of this one-day workshop you will be able to
Explore how your flute headjoint, body posture, mouth and throat positioning can be tweaked for your best sound
Learn a variety of exercises that you can put into your daily practice routine to deepen into refining dynamics, articulation, lip flexibility and vibrato control
Cost: £35 Early bird (til midnight on Sunday, 1 October 2017), £40 thereafter.
BACS payment available if you would prefer to pay this way instead of through Eventbrite. Email jqflute@gmail.com if you prefer this method.
Plus: Tea, coffee, and biscuits will be provided for you during your breaktimes.
Requirements: Suitable for players that are approx. Gr. 3/4+ to advanced, including teachers, all ages welcome. If you are age 12 or under you will need to have a parent/guardian present at the venue during the event (there will be a vestibule waiting area provided for this purpose).
Please note: This workshop is a bespoke event designed around the attendees registered. Surveys asking about your playing level and experience will be sent out before the event.
Your registration fee is non-refundable, so please book your place mindfully.
Questions? Feel free to email Jessica at jqflute@gmail.com about any further information.
Not able to get to this workshop this time? Sign up for notification of other flute events with Jessica here
Getting there on Google maps:
https://www.google.co.uk/maps/place/The+MMI+Bar/@50.3100215,-5.2034404,15z/data=!4m5!3m4!1s0x0:0x29962e9efd61ce00!8m2!3d50.3100215!4d-5.2034404
This venue is also easily accessible by public transport inluding easy bus links. Details sent out at registration, if required.
For more info about Jessica, please visit www.JQflute.com
Visit event website (Opens in a new window)
Saturday, 25 November, 09:30
Where? Lantern Theatre, Mountbatten School, Whitenap Lane, Romsey, SO51 5SY
EXPLORE: the Piccolo in workshops, with one of the world's leading experts of the Piccolo.
EXPERIENCE: Flute & Piccolo Masterclasses & Recital.
MEET: like-minded flautists.
BROWSE/BUY: Instruments/Music from Just Flutes
VISIT: Specialist Flute Repairer Nigel Salmon for free quick-fix repairs and maintenance advice.
PERFORM: 5.30pm Concert with Peter & Zoe, Hampshire Flute Choir and all participants, Public welcome to concert - Adults £10/Child £5.
Visit event website (Opens in a new window)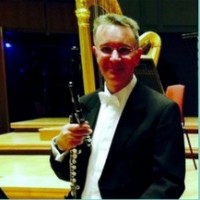 Saturday, 24 March, 10:00 - 16:30
Where? Sharrow Performing Arts Space
Sheffield
S7 1BE
Are you a keen piccolo player? Or do you have one lurking in a cupboard but you're not really sure what to do with it? Or maybe you've never played one and don't know where to start? This day is for all flautists who are interested in learning more about the piccolo and improving their skills. Whether you play piccolo regularly, you've never picked one up before, or you've got one but it's a bit neglected, this day with piccolo expert Andrew Lane will give you a wealth of information and inspiration.

Andrew Lane was principal piccolo in the City of Birmingham Symphony Orchestra for 38 years, teaches piccolo at Birmingham Conservatoire and is the author of 'Piccolo Craft'.

For flute players aged 15+, any level of piccolo-playing experience.
​Cost: £55
More information and bookings at http://www.sheffieldflute.co.uk/piccolo-day.html
Visit event website (Opens in a new window)
---
Recitals and Concerts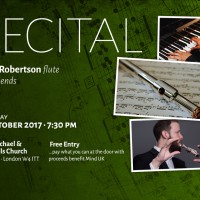 Saturday, 28 October, 19:30
Where? St Michael & All Angels Church,
London
W4 1TT
A recital of music for flute and piano, and maybe more :-)

Programme to be announced, but certain to include some great British music.
Last year's autumn recital was a success and raised £300 for charity. This year I'd like to make this free entry, and "Pay what you can", with a suggested price of £10 for those that can afford it - but absolutely no obligation or expectation for those that can't.
Wine in the interval.

** Proceeds to Mind UK **
Visit event website (Opens in a new window)