Instrument Insurance
Unfortunately, musical instrument theft is an all-too common occurrence which you should be aware of. Many household policies offer adequate cover for musical instruments; however, do check the small print carefully. We've made a list below for you to check with your current insurer.
Even if you have a home insurance policy that includes named item cover, there are still many advantages to having a policy with a specialist insurer, as they usually offer cover for a much wider range of situations, and often with a lower excess than standard domestic policies.
Insurance policy checklist
Does a child take the instrument to school or college? If stolen from a classroom or locker, household insurers tend to class this as loss and are unlikely to pay out. Newmoon covers loss.

Do you use your instrument professionally? If playing or teaching with your instrument, household cover is unlikely to cover you in the event of a claim. Newmoon covers professional use.

Do you sometimes take your instrument abroad? Unless you notify your insurer first, you may not be covered. Newmoon covers 60 days outside

Do you take your instrument out by car or public transport? If stolen from a car or left on a train, household cover may not pay out. Newmoon covers theft from a locked car as standard.

What is your current excess? Newmoon Insurance has zero excess as standard.

Repairs and replacements Will your household insurer know the best place to repair or replace your instrument?

Replacement value Will your household cover pay out enough to replace your instrument? Newmoon policies are on a "New for old" basis.
Just Flutes is an appoined representative for Newmoon insurance, who offer market-leading musical instrument insurance with cover against loss, theft and accidental damage with no excess as standard. Products are designed to meet the needs of all kinds of musicians at competitive prices. Newmoon have extensive experience of musical instrument insurance and empathy with musicians, instrument repairers and instrument retailers: the Newmoon team are musicians themselves and all are insurance experts.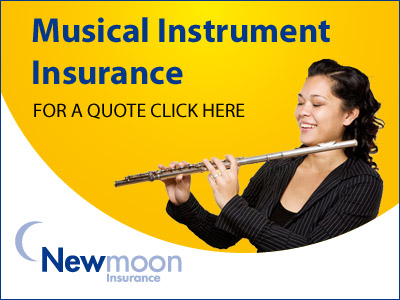 As an introduction from Just Flutes, new policyholders are entitled to a discount from Newmoon Insurance, using one of the following codes:
If your instrument is valued at £1500 or less, use code JMM1M3 for one month free cover, via the Natural policy.
For instruments values above £1500, use code JMM12411 under the Harmonic policy to get 12 months' insurance for the price of 11.
Newmoon Insurance Services Limited is registered in England No. 6610290. Registered Office: 85 High Street, Tunbridge Wells, TN1 1XP. Newmoon Insurance Services Limited is authorised and regulated by the Financial Services Authority. Newmoon Insurance Services Limited is an appointed representative of Herald Insurance Brokers who is registered in England No 2332789 and are authorised by the FSA under registration number 306274. Newmoon Insurance Services Limited administers this insurance on behalf of IGI Insurance Company Limited. Jonathan Myall Music is an appointed representative of Newmoon Insurance and is registered with the FCA, number 498667.