Repair studio
Our repair studio, run by Ian McLauchlan, is here to help you keep your instrument in ship-shape playing order. From minor repairs to full overhauls, dent removal, lip-plate replacement and decorative engraving, our team of expert technicians are here to help you.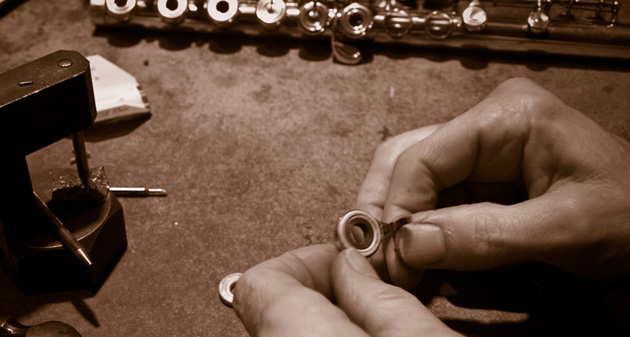 On this page...
How Often?
We recommend bringing your instrument into our studio to be checked once a year. This helps to ensure that everything is working smoothly and there are no problems around the corner.
We suggest that all woodwind instruments should also be given a general service every two years. This will help keep mechanical wear to a minimum, meaning that your instrument will continue to be reliable.
The Repair Studio
Ian McLauchlan is our full-time on-site flute repairer. Along with our team of specialist woodwind technicians we are able to repair, service and overhaul all types of woodwind instrument. Ian McLauchlan has been repairing, servicing and overhauling flutes and making flute and piccolo headjoints since 1980, and is available to discuss maintenance issues or ongoing problems that you may be experiencing.
Please note that we can only give a rough estimate for repair work before we see your instrument, and so we suggest that you bring or send your instrument to us for evaluation.
Booking In
We are often booked up well in advance for repair and servicing work. For this reason we operate a booking-in system. For student instruments, work can take approximately 10 days. Intermediate and professional instruments are usually booked in for a particular day, so that you can bring your instrument in in the morning and collect at the end of the day. Please be sure to arrange a date well in advance, especially in the run-up to holidays and school half terms. We try our best to carry out small repairs while you wait; but major surgery can take a little longer!
If you can't get to us to bring the instrument, we frequently carry out repairs and services by post. It's totally safe and reliable. We suggest Royal Mail Special Delivery, although there are plenty of couriers out there. Make sure your instrument is well-packed and adequately insured in transit (as most instrument insurance policies don't cover an instrument in transit). Remember to include as many contact details for you as possible! Instruments for repair should be addressed to:
Repair Studio
Jonathan Myall Music
46 South End
CROYDON
CR0 1DP
To book an instrument in for service or repair, please contact our studio on 020 8662 8400, or by email via Ian McLauchlan's website.
Payment Methods
We accept credit and debit cards for flute repairs, but not currently for other instruments. You are welcome to pay for repairs and servicing by cash.
Instrument Servicing Pricing
We offer three levels of service: Thorough Check (Interim Service), General Service and Overhaul
Thorough Check (Interim Service)
This is putting the instrument in to good working order. We suggest this every year or so. Includes:
Ensuring that all pads are sealing properly
Ensuring that the adjustment is correct between linked keys
Checking and adjusting, if necessary, the fitting of the joints
In flutes, inspecting the sealing of the headjoint cork and replacing if necessary
Giving the instrument a dust off and general clean
Oiling the keywork
Price guide
Piccolo from £60.00
Flute from £80.00
Clarinet from £55.00
Bass Clarinet from £55.00
Soprano/Alto/Tenor Saxophone from £75.00
Baritone Saxophone from £90.00
Oboe from £75.00
Bassoon from £110.00
General Service
Your instrument should be serviced every two years. Includes the work of a Thorough Check, plus:
The instrument is totally stripped down and cleaned
Pad sealing is checked and adjusted
Any worn or torn pads are replaced
Dents are removed as far as possible
The old oil is fully removed and the keys are re-oiled and adjusted
On corked instruments, joint corks are fitted and replaced as necessary
Price guide
Piccolo from £90.00
Flute from £110.00
Clarinet from £110.00
Bass Clarinet from £175.00
Soprano/Alto/Tenor Saxophone from £165.00
Baritone Saxophone from £190.00
Oboe from £140.00
Bassoon from £240.00
Overhaul
This is over and above the work of a 'General Service' and involves putting the instrument back, as far as possible, to 'As New' condition. Includes the work of a General Service, plus:
The instrument is totally disassembled
End play (longways mechanism movement) is removed from the keywork
All pads are replaced
On corked instruments, joints are fully re-corked
Price guide
Piccolo from £200.00
Flute from £300.00
Clarinet from £200.00
Bass Clarinet from £300.00
Soprano/Alto/Tenor Saxophone from £350.00
Baritone Saxophone from £450.00
Oboe and Bassoon - POA
Also See