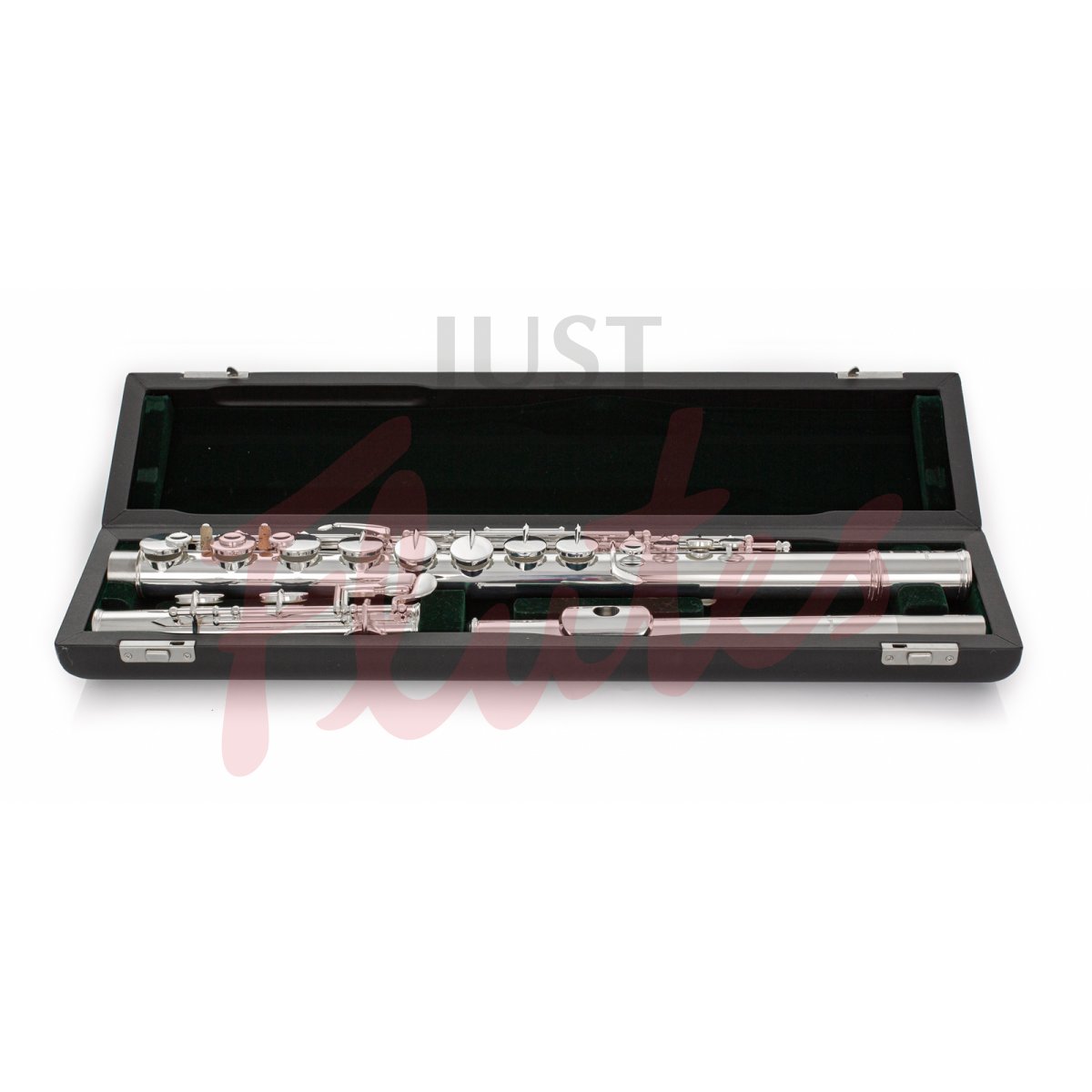 Pearl PFA-201ES Alto Flute
Perfect Performance Plan
Included with every new instrument:
Pre-Sale Set-Up

Owner's Check-Up

Three-Year Warranty
Our Description
Models
PFA-201ES Straight headjoint only
PFA-201EU Curved headjoint only
PFA-201ESU Straight and curved headjoints
About Pearl
Pearl's handmade craftsmanship has pioneered a tradition of flute making that is totally distinctive. Many flute makers claim to be innovators, but Pearl's track record can be proven. Most of the artisans have the distinction of building flutes for their entire career only at Pearl. The apprentice program has been employed for decades, which allows the talents of master builders to be passed on to future generations. The foundation of every Pearl flute is a patented Pinless construction, which eliminates the problems of traditional flute construction - protruding needles that snag clothing and give easy entry to perspiration and body acids causing corrosion and binding keys. Besides this unique pinless construction, Pearl flutes have additional bridge mechanisms that add strength to the entire mechanism. The goal of handmade creativity united with meticulous assembly is consequently realised. Pearl has a revered commitment to accuracy of pitch, flexible articulation, and a beautiful and projecting sound.
Specifications
Hover over the styled text for a short definition, or click for a more detailed explanation.
Silver-plated headjoint with .925 solid lip-plate and riser
Silver-plated body tube and mechanism
E mechanism
Comfortable hand position
French-style 'pointed' key-arms
Choice of straight and Headjoint | A curved headjoint on a student flute means that a player with small arms can reach the keywork more comfortably with less stretch. Curved headjoints encourage good posture for small players."> curved headjoints
Includes wood case, plush lined case cover and maintenance accessories
Item Details
Manufacturer:
Pearl
Category:
Graduate Alto Flutes
Rent It
Rent this item for
£98.11 per month
---
Our Rental scheme is perfect for trying out a new instrument without committing to a purchase. Rent a brand new instrument and make affordable monthly payments - if you decide not to take it up, return it at any time. Ownership transfers to you after 18 months!
Rent a brand new, high-quality instrument

Affordable monthly payments

Return it at any time* if you choose not to carry on

Ownership transfers to you after 18 months

Receive your new instrument within 3 working days

Free secure delivery