Koechlin International Flute Competition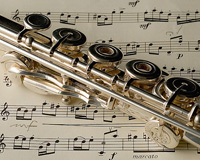 Koechlin International Flute Competition
Thursday, 29 April 2021
The exciting new Koechlin International Flute Competition is set for Spring 2021.
The aim is give flautists a goal, promote the wonderful but litte-known flute pieces 'Chants de Nectaire' by Koechlin and bring flautists together from around the world.
The competition is open to all ages, abilities and nationalities.Flautists are invited to film themselves playing unaccompanied repertoire and include at least one piece by Koechlin; on enquiry you will receive 9 samples of the 'Chants de Nectaire' free of charge, courtesy of Billaudot publishers.
The event has 5 categories, a fantastic line-up of judges and some great prizes. The culmination will be a live zoom Winners Concert and Seminar with the adjudcators on Thur April 29th.
Please have a look at www.nicolawoodward.uk/competition for details and www.nicolawoodward.uk/koechlin for more about the composer and his flute music. Good luck!

Further information: PDF file