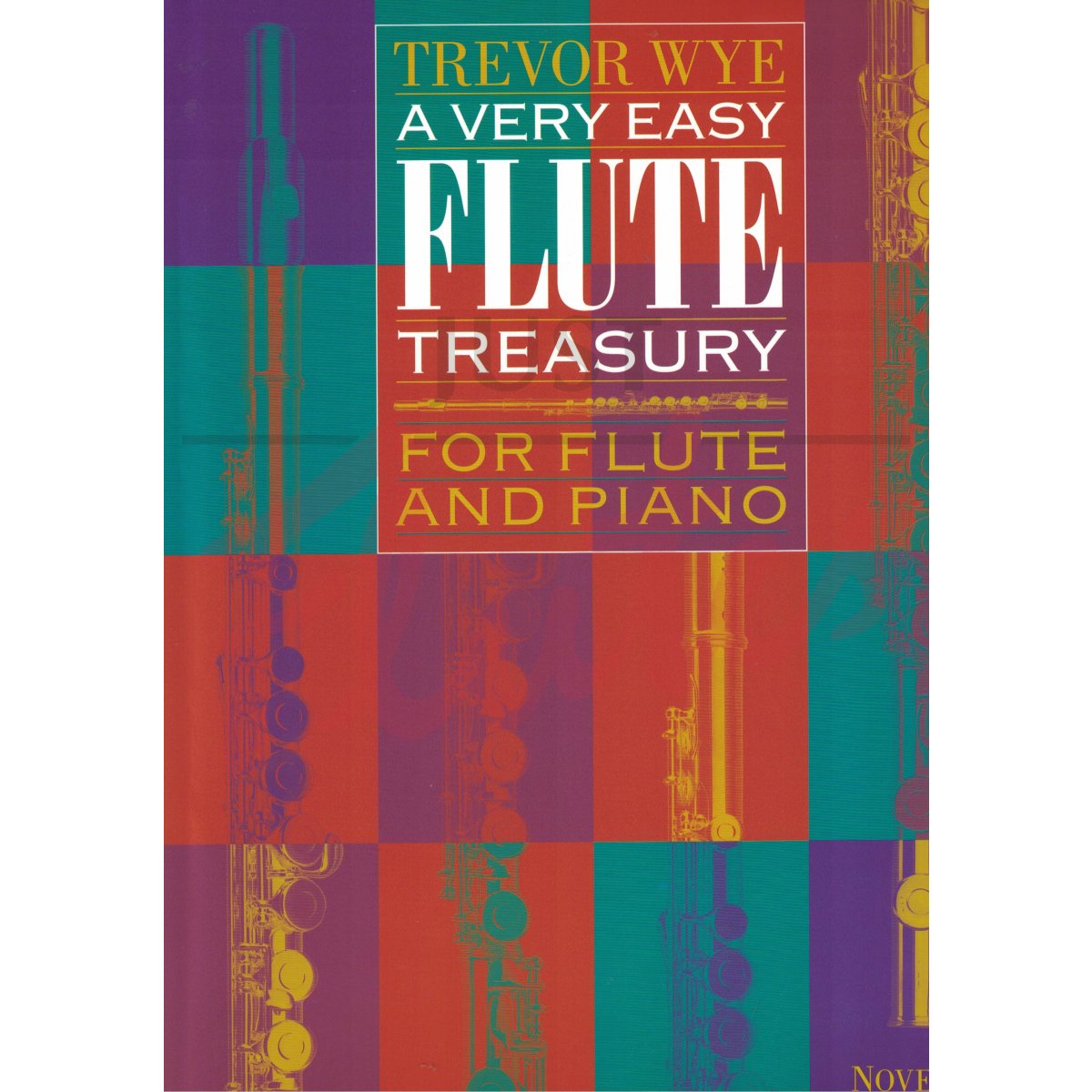 A Very Easy Flute Treasury
Approved Exam Music
Recommended for the following exam grade(s):
ABRSM exam syllabus
Grades: 2
Trinity College exam syllabus
Grades: 2
From the Publisher
This bumper collection contains over 40 pieces composed and arranged for flute and piano, spanning five centuries of music, featuring a wealth of repertoire from the Baroque, Classical and Romantic periods, plus 10 original twentieth century pieces commissioned especially for this book.
Compiled by Trevor Wye to increase flute players' enjoyment and knowledge of music from different eras, whilst also developing tone and technique. Book includes solo flute parts.
Difficulty guide:
1-4
Difficulty level, roughly compared to ABRSM exam grades. 0 is beginner, 9 is advanced (beyond grade 8).
Contents
Suite: Dawn Until Night (Ridout)
Trockne Blumen (Schubert)
Waltz No. 12 (Schubert)
La Tubeuf (D'hervelois)
La Dannoise (Philidor)
Minuet (Blavet)
Valse Des Fleurs (Kohler)
Souvenirs D'enfance
Minuet (Hotteterre)
Dorset Street (Dick)
Siciliana (Handel)
Passepied (Philidor)
La Villageoisie (Philidor)
Minuet (Marcello)
Saraband (Vivaldi)
Bouree (Boismortier)
Minuet Kv11 (Mozart)
Aria (Marcello)
Twilight (Sullivan)
Serenade (Woodall)
Daydreaming (Hand)
Scherzo (Czerny)
Siciliana (Cooke)
Andante (Furstenau)
Andante (Beethoven]
Arietta [Hand, Colin]
Sonata In F (Donizetti)
Duo (Devienne)
Moderato (Cooke)
Carnival Di Napoli (Traditional)
Le Polichinel (Philidor)
Marionette (Dodgson)
What The Tree Told Me (Horovotz)
Rumba (Horovitz)
Le Papillion (Philidor)
Sun Shower (Dick)
Variations On A Minuet (Fischer)
Sarabande for a sandwich
Item Details
Category: Accompanied Classical Flute Albums
Publisher: Novello
Publisher's reference: NOV120852
Our Stock Code: 1199574
Media Type: Paperback