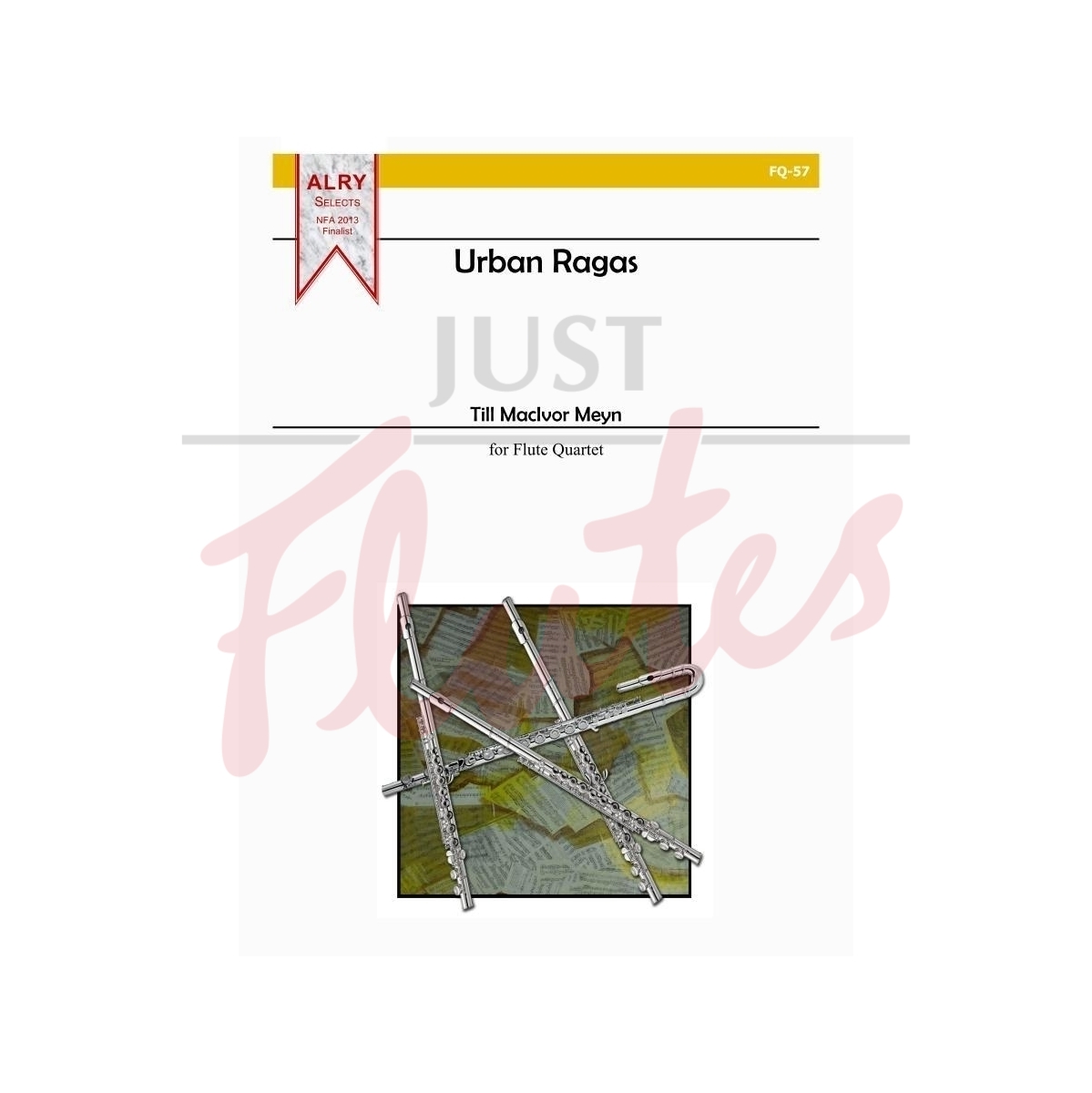 Urban Ragas
Staff Pick

Editor's Choice
Staff Pick
"An unusual quartet for flutes"
The title very aptly describes the nature of this challenging quartet. The opening unison E's in a very fast 7/8, with jarring hamonies and rhythmic intensity is very 'urban'. The even faster fugal section is based on Indian ragas. These 2 ideas then form the basis of the whole piece. It's complex and looks quite daunting on the page, especially as the metronome marks are alarmingly quick, but it is compelling and well worth the effort. Not for the faint-hearted, but great if you want to play something different!
Our Description
Performance Notes
Urban Ragas was composed for Kathryn Thomas Umble and the Dana Flute Quartet. The piece is reminiscent of ragas, the scales and modes of Indian music. Although the melodic lines evoke traditional Indian music, they were composed to reflect the spirit of Indian scales through a modern lens, conveying a sense of urgency. The melodies interact contrapuntally, creating a contemporary mood not found in the music it was inspired by. Certain hauntingly familiar strains of Indian musical style do begin to surface toward the middle of the work, but are eventually surpressed by incessant contrapuntal lines. Urban Ragas is carried through on the same pulsing rhythm that introduces the piece, but ultimately the melodies lead to a higher place, bringing it to a triumphant close.
Difficulty guide:
8
Difficulty level, roughly compared to ABRSM exam grades. 0 is beginner, 9 is advanced (beyond grade 8).
Contents
The piece is reminiscent of ragas, the scales and modes of Indian music. Although the melodic lines evoke traditional Indian music, they were composed to reflect the spirit of Indian scales through a modern lens, conveying a sense of urgency. Score for 3 C Flutes and Alto Flute (or Bass Flute)
2012 NFA Newly Published Music Competition - FINALIST
Item Details
Instrumentation
Part 1: Flute
Part 2: Flute
Part 3: Flute
Part 4: Alto Flute or Bass Flute
Category:
Flute Quartet Music: Four Mixed Flutes
Publisher:
ALRY Publications
Publisher's reference:
FQ57
Our Stock Code:
1329155
Media Type:
Paperback - Score and parts