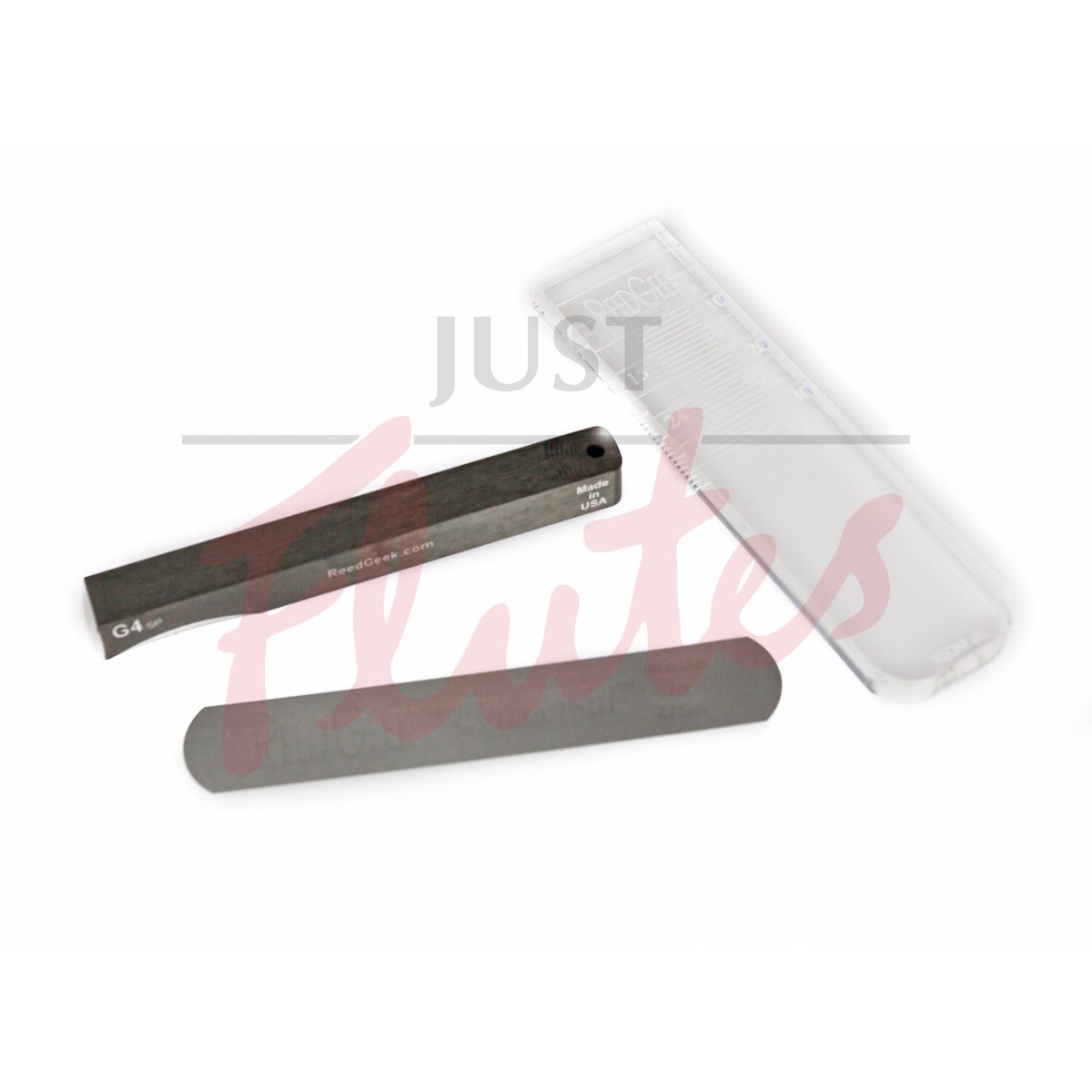 ReedGeek G4 Black Diamond Reed Tool Plaque And Gauge Set

We aim to offer the best possible value for our products, taking into account our comprehensive choice, Perfect Performance Plan, service levels and expertise. Learn More/Price Match
Manufacturer's Description
The ReedGeek "Universal" Reed Tools enhance reed performance by rapidly and accurately flattening reed tables. You'll experience the benefits of a truly flat reed and be able to fine-tune the entire reed in record time!
Ready to use
Portable and safe for air travel
Immediate results at any playing level
Superior sounding reeds
Longer, more reliable reed performance
Never again throw away new reeds
Our Description
The G4 is the newest member of the ReedGeek Universal family, utilising state of the art, 100% USA alloy with very high vanadium carbide content for exceptionally good wear resistance. With our beautiful "Black Diamond" wear finish the G4 works on both natural cane and all synthetic reeds. Features include a newly designed length with a comfortable, rounded back scraper (for further adjustment options), a radius tip for precision work, and two contoured and curved rail bevels specially designed to profile rails and re-contour the spine and heart of single and double reeds.
The Plaque Set can be used to find mouthpiece facing curve lengths on most clarinet and saxophone mouthpieces, as well as transferring those facing measurements onto the reed. It allows you to easily and quickly determine mouthpiece facing lengths, and gauge the exact position for most effective reed adjustment and balancing. The topside of the plaque can also be used to support the reed while using the ReedGeek to make precise adjustments to the reed's tip.
Includes a self-locking neoprene bag and case. Instructions included.
About ReedGeek
ReedGeek is committed to innovation and producing the world's finest woodwind reed adjustment tools. Utilizing state of the art technology, the ReedGeek is cut from virgin raw sheet comprised of the highest grade proprietary 100 percent U.S. "wear" alloys. It is then heat-treated and machined to tolerances closer than virtually any hand cutting-tool on the market today!... An 18 step manufacturing process (including hand-honing and polishing) to enable the most precise and least invasive cut for the reed.
All ReedGeeks are made 100% from scratch, using the USA's highest quality alloys with state-of-the-art manufacturing. 100% American Made.
"Reed Geek is the perfect complement to my other reed tools. Its refined edges offers numerous scraping and profiling options, which allow for even more precise work. Being able to carry it in your hand luggage while flying, is an indispensable companion on concert tours." - Christoph Hartmann
"ReedGeek tools have been a steady companion on my global travels for the past 6 years. The ReedGeek tools, at least for me, are the ultimate reed finishing tools for a globe trotting musician like myself." - Martin Kuuskmann