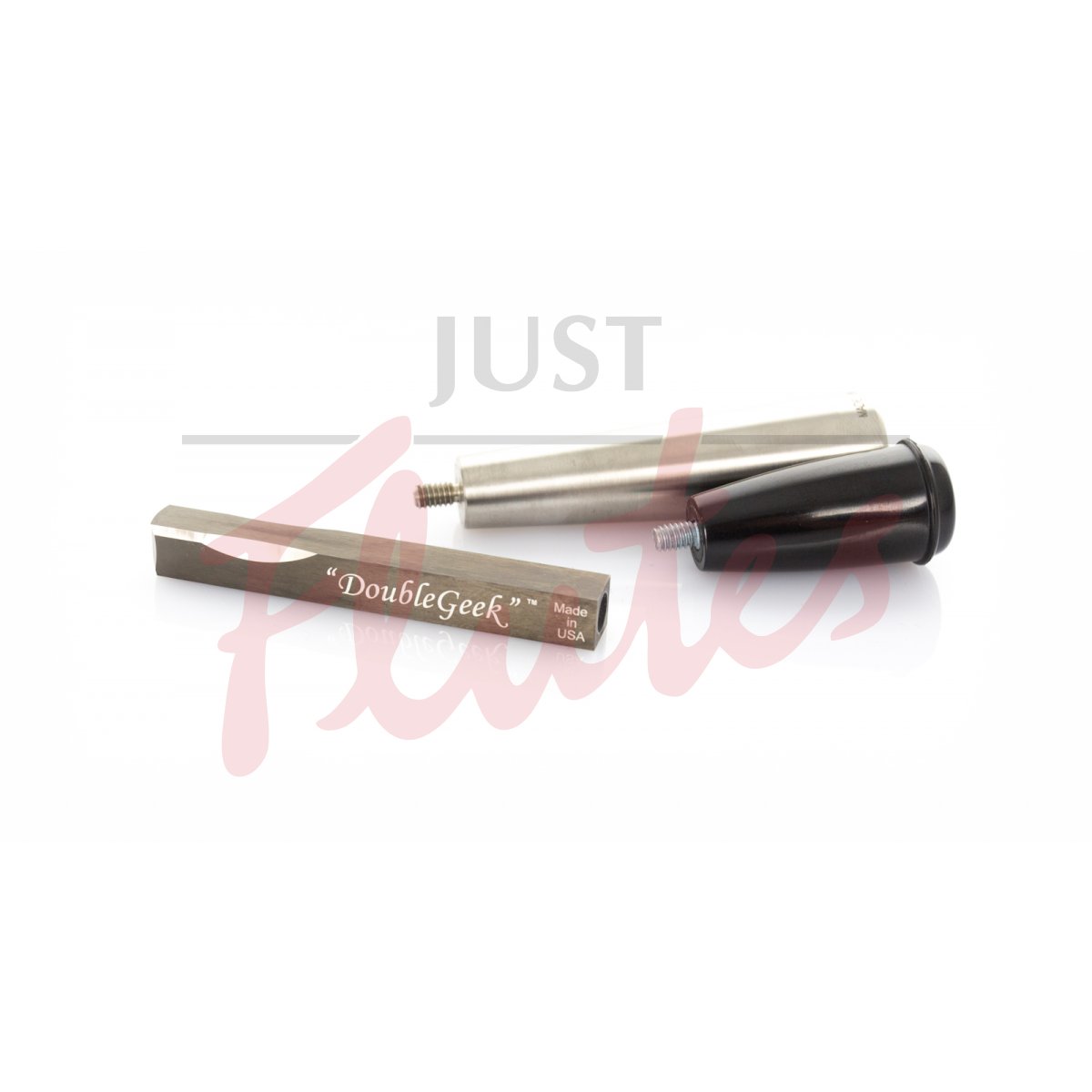 ReedGeek DoubleGeek Edge And Curve Reed Profiling Set
Manufacturer's Description
These revolutionary 'Geek tips provide the reed worker unique scraping edges and bevels that provide a very direct cut and remove cane both rapidly and smoothly without chatter. They are excellent for shaping and profiling oboe and bassoon reeds before using your DoubleGeek for ultra-fine finishing. Both tips include the front pencil eraser scraping and blending tip. The Curve is truly unique in that it possesses two pronounced and varying shaped side scraping bevels for spine and channel profiling. Both tips affix to any standard ReedGeek threaded handle. Combo kit includes both tips, tall stainless and black bob handles, and neoprene bag and case.
The DoubleGeek line of handled tools and tips:
Useful for all woodwind players
Perfect for students, school and travel safe
Interchangeable handle options for complete control
Effective on both natural cane and synthetic reeds
Black Diamond wear finish for refinement of cut
100% American Made
Our Description
The DoubleGeek line of handled tools and tips are focused on the needs of the double reed player, but useful to all woodwind players.
CAUTION: Like any reed tool, the ReedGeek's edges are sharp. Please handle with care, and use as directed.
About ReedGeek
ReedGeek is committed to innovation and producing the world's finest woodwind reed adjustment tools. Utilizing state of the art technology, the ReedGeek is cut from virgin raw sheet comprised of the highest grade proprietary 100 percent U.S. "wear" alloys. It is then heat-treated and machined to tolerances closer than virtually any hand cutting-tool on the market today!... An 18 step manufacturing process (including hand-honing and polishing) to enable the most precise and least invasive cut for the reed.
All ReedGeeks are made 100% from scratch, using the USA's highest quality alloys with state-of-the-art manufacturing. 100% American Made.
"Reed Geek is the perfect complement to my other reed tools. Its refined edges offers numerous scraping and profiling options, which allow for even more precise work. Being able to carry it in your hand luggage while flying, is an indispensable companion on concert tours." - Christoph Hartmann
"ReedGeek tools have been a steady companion on my global travels for the past 6 years. The ReedGeek tools, at least for me, are the ultimate reed finishing tools for a globe trotting musician like myself." - Martin Kuuskmann
Specifications
One "Edge" tool with interchangeable stainless steel handle
One "Curve" tool with interchangeable black palm handle
Two oversized bevels for fine tuning the spines and corners with ease and efficiency
Twelve cutting surfaces in total
Chromium wear finish for a very direct cut and efficient cane removal - no sharpening required
Neoprene bag with sewn-in microfibre cloth
Self-locking waterproof case for storage and travel
Instructions for use
One year warranty