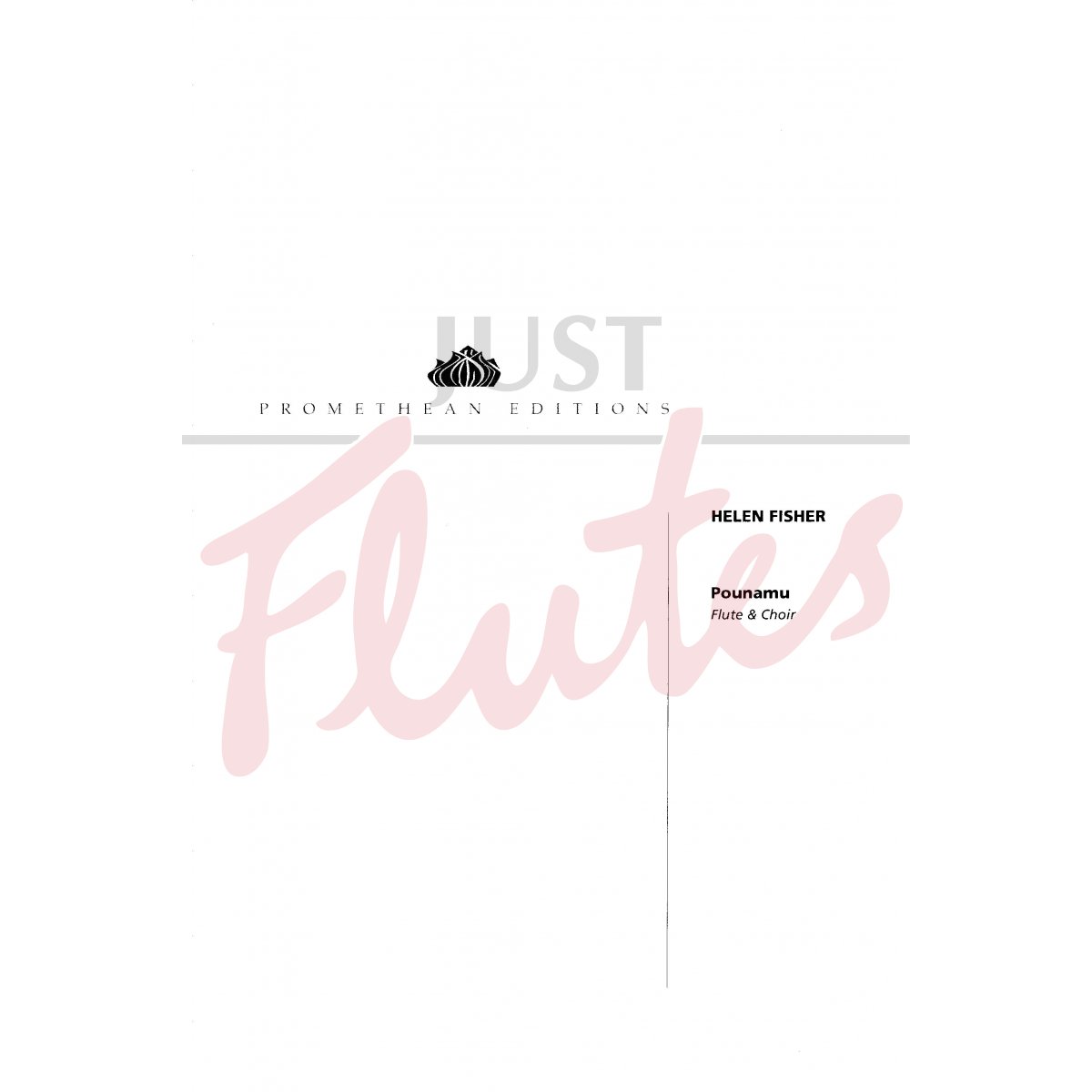 From the Publisher
Pounamu (1989) by Fisher is perfect for choirs seeking to perform a work that combines Western and Maori musical traditions enhanced by a solo flute. Inspired by the sparkling summer waters of New Zealand's Tasman Bay, the work employs a choir setting to explore resonances of Maori vowel sounds. The waiata (song) that emerges during the work is based on a tainui whakatauki, or proverb. The flute part can also be performed on Japanese shakuhachi or the Maori koauau.
Our Description
Pounamu means 'greenstone', a type of jade prized by the Maori people for use in making jewellery and tools. The word also evokes the sea, and this choral piece is inpired by the sparkling summer waters of Tasman Bay, Nelson.
The resonance of the Maori vowel sounds is explored, and mid-way through the piece a waiata (chant) emerges, based on a whakatauki(proverb) of the Tainui people.
Pounamu was performed at the 1990 Asian Music Festival in Japan by the Sendai Hoso Choir. When this choir visited New Zealand in 1991, the flute part was performed on a shakuhachi (traditional Japanese flute). The work has also been performed using the koauau (traditional Maori flute).
Fisher's compositions tend to be modal or freely atonal in style. They are often inspired by the New Zealand environment, her own Celtic heritage as well as Maori culture.
Item Details
Instrumentation
Part 1: Flute
Part 2: Voice - Soprano
Part 3: Voice - Soprano
Part 4: Voice - Alto
Part 5: Voice - Alto
Part 6: Voice - Tenor
Part 7: Voice - Bass
Category:
Music for Flute and Mixed Voices
Publisher:
Promethean Editions
Publisher's reference:
PREPE006C
Our Stock Code:
1466805
Media Type:
Paperback (12 pages [score])