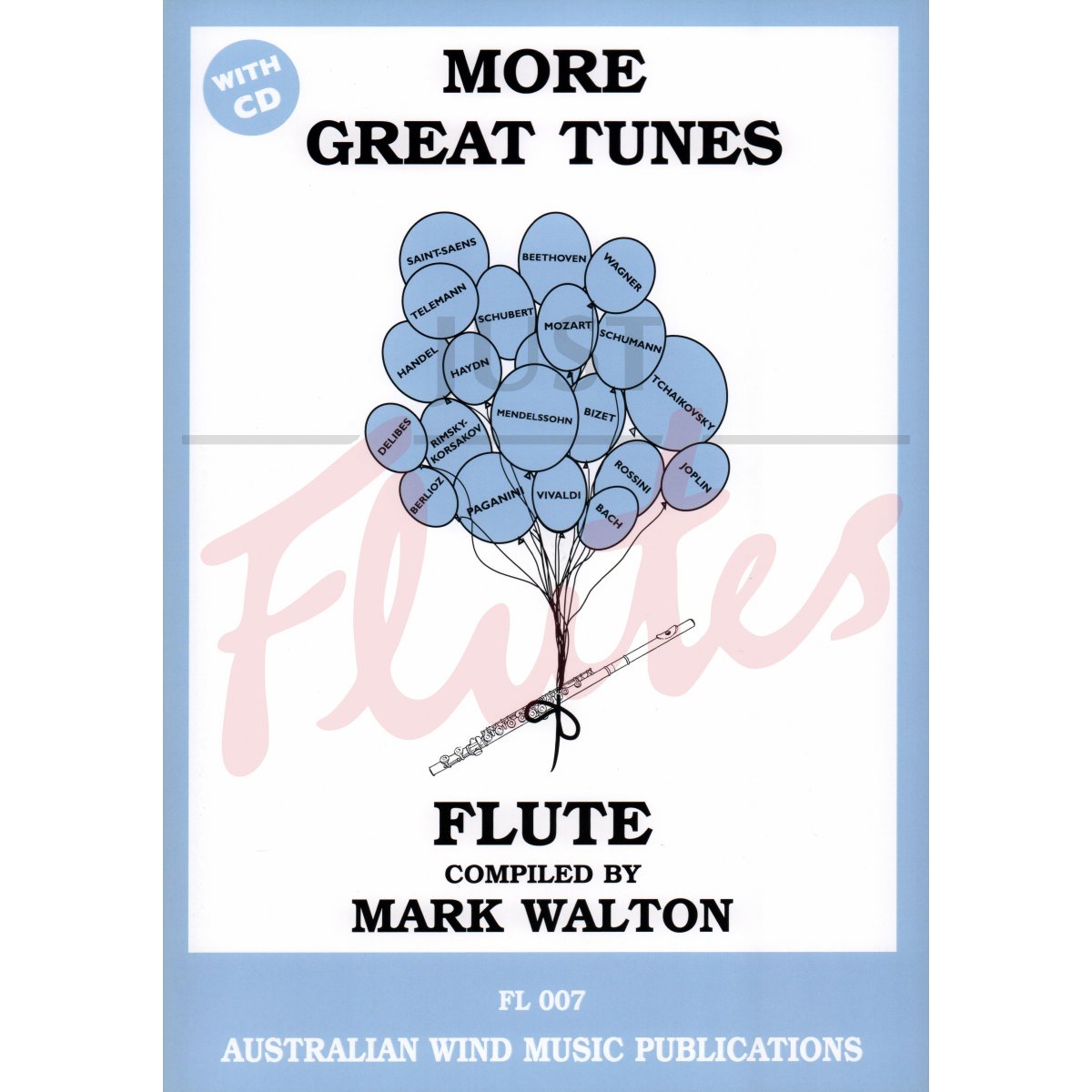 More Great Tunes for Flute
Includes CD
Difficulty guide:
6-8
Difficulty level, roughly compared to ABRSM exam grades. 0 is beginner, 9 is advanced (beyond grade 8).
Contents
Sleeping Beauth Waltz (Tchaikovsky)
Piano Concerto No.1 1st movement (Tchaikovsky)
Jesu Joy of Man's Desiring (JS Bach)
Romeo & Juliet (Tchaikovsky)
Eine Kleine Nachtmusik (4th movement) (Mozart)
Spring from Four Seasons (Allegro) (Vivaldi)
Hallelujah Chorus from 'The Messiah' (Handel)
Symphony No1 4th Movement (Beethoven)
Waltz (Tchaikovsky)
The Queen of the Night Aria (Magic Flute) (Mozart)
Barber of Seville (Aria) (Rossini)
The Mastersingers (Overture Theme) (Wagner)
Piano Concerto No.3 (rondo) (Beethoven)
Presto from Viola Concerto (Telemann)
Allelulia (Mozart)
Oberon Overture (Weber)
Piano Concerto No.21(2nd movement) (Mozart)
The Marriage of Figaro (aria) (Mozart)
Don Giovanni (aria) (Mozart)
Piano Concerto 1st Movement (Schumann)
Operatic Duet from Lakme (Delibes)
The Emperor Concerto (1st movement) (Beethoven)
Gypsy Song from Carmen (Bizet)
The Toreador Song from Carmen (Bizet)
Allegro from Recorder Sonata (Telemann)
The Dance of the Tumblers (Rimsky-Korsakov)
The Magic Flute (overture) (Mozart)
Horn Concerto No.4 (rondo) (Mozart)
Symphony (2nd Movement) (Bizet)
Arrival of the Queen of Sheba (Handel)
Tarantella (Rossini)
Pastoral Symphony (1st movement) (Beethoven)
Scheherezade (Rimsky-Korsakov)
Waltz from 'Symphony Fantastique' (Berlioz)
Symphony No.5 (Theme fr 1st movement) (Beethoven)
Cello Concerto (rondo theme) (Haydn)
Fingals Cave (overture) (Mendelssohn)
Allegro from String Quartet (Schubert)
Fantasia (Schubert)
Ragtime Dance (Joplin)
Quintet (rondo) (Beethoven)
Septet (1st Movement theme) (Beethoven)
The Theieving Magpie (overture) (Rossini)
Violin Concerto No.4 (1st Movement) (Mozart)
Dance of the Swans (Tchaikovsky)
Ave Maria (Schubert)
Violin Concerto (rondo theme) (Mendelssohn)
Rondo Capriccioso (Saint-Saens)
The Flight of the Bumble Bee (Rimsky-Korsakov)
and many, many more.....