Légère American Cut Synthetic Tenor Saxophone Reed, Strength 2.25

(1)
Read reviews
|
Write a review
Shipping calculated at checkout

Manufacturer's Description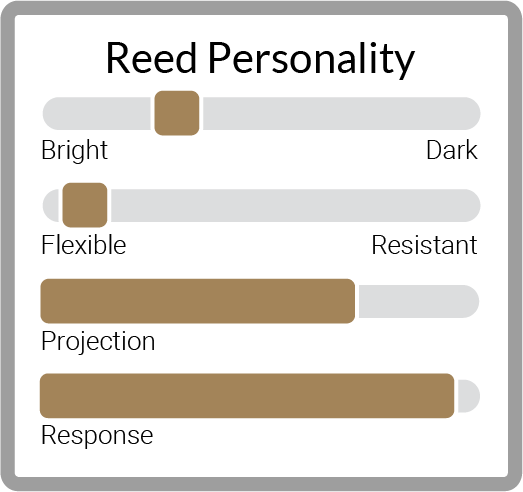 The American Cut represents the next generation of Légère saxophone reeds. From the first note, the reed speaks with total ease while giving players just the right amount of edge. It is free-blowing, colorful, and loaded with personality.
Available for all saxophones, the reed's free-blowing and responsive nature is due to an entirely reinvented profile and heart. The American Cut features a slightly wider vamp with material moved from the outer edges to the spine. This change is simple but has dramatic effects on the playability and tone of the reed. By making the edges of the reed thinner, it can vibrate freely, providing a full, clear low register and vibrant altissimo.
What do players think of the American Cut?
Many of Légère's endorsing artists are switching to the American Cut, including Gerald Albright who has been playing and recording on the reed for several months. This was Gerald's response upon receiving his first American Cut reed…
"Let's just say this… I wish I had a reed "exactly" like this one every time I applied it to my mouthpiece! It has the "buzz", the edge, the projection, and the consistency up and down the alto sax. The notes speak a lot better than the Signature reeds. Bravo!"
- Gerald Albright
Légère also sent reeds to a sample group of professionals, educators, and amateurs, most of whom were dedicated cane players. Here is what some of the testers had to say…
"Consistent throughout all registers in tone and articulation every day, regardless of temperature and precipitation changes. Solid tonal core that projected, yet was not extremely edgy, bright, or buzzy."
- Kaleb K.
"Very consistent over many days of playing. It is also consistent through the entire range."
- Matthew H.
"This reed has a warmth and a center that other synthetic sax reeds I have tried do not."
- David Y.
"It just feels perfect."
- Georgeanne T.
Specifications
High-quality synthetic reed
Feel and sound very natural
Requires no prior soaking - plays out of the packet
Easy to clean and sanitise
Tough and durable
Consistent and reliable
Graded in ¼ strengths