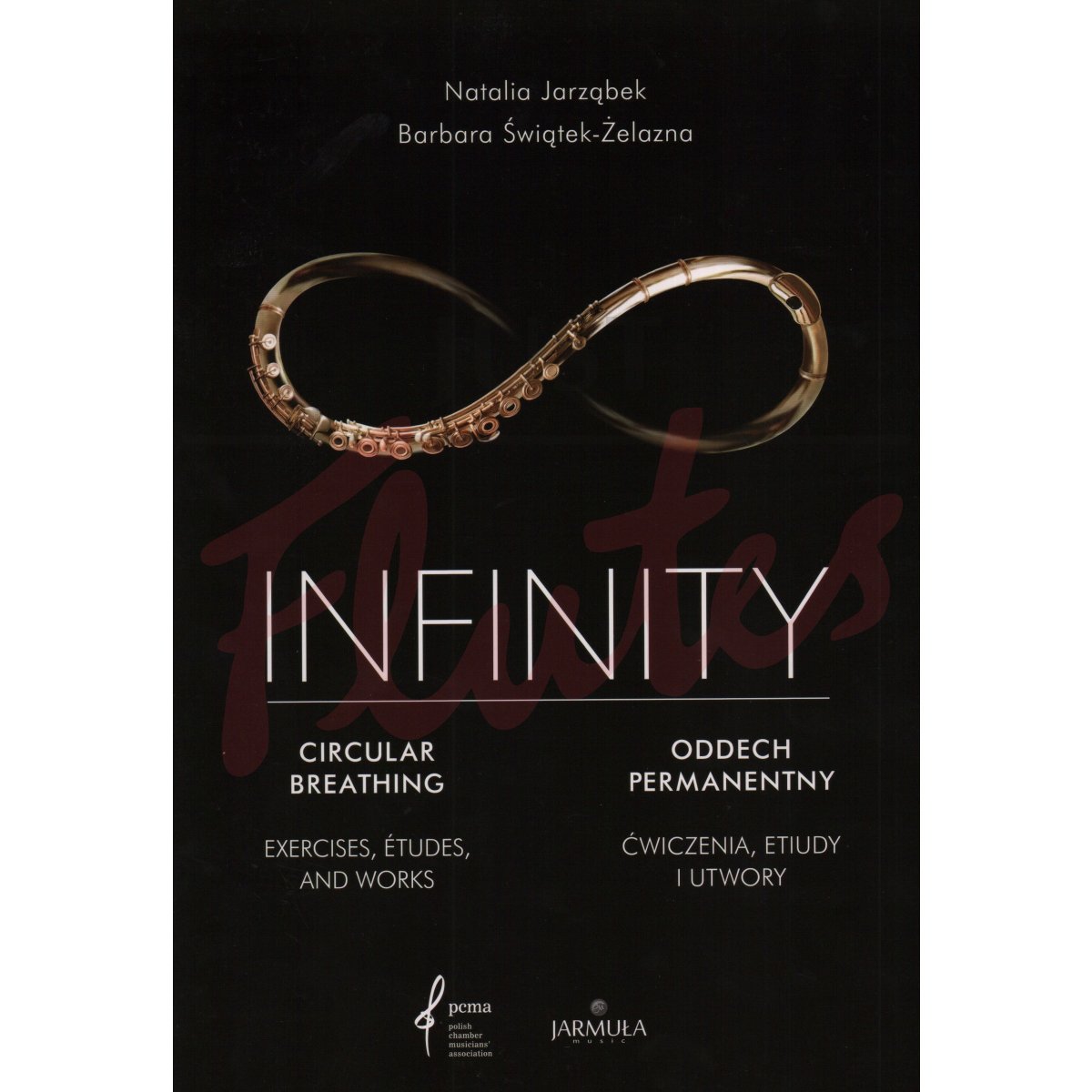 Infinity: Circular Breathing for Flute
Staff Pick
"Comprehensive!"
This pair of books is a comprehensive and in-depth guide to the art of circular breathing. The Course book covers the technique with exercises that are illustrated to make the tasks easier to understand. The progression starts from using a glass of water and a straw, moves on to the head joint before adding the body of the flute and playing some music. The last section covers the material that is used in the companion volume. This is also progressive and uses an interesting mix of exercises, studies and contemporary pieces to increase confidence. Whether or not you want to master circular breathing there is no doubt that practising it is both useful and fun. This is a great book to help you on your way.
From the Publisher
Circular breathing is a technique used while playing wind instruments that allows players to sustain the sound for a long time. It requires drawing air quickly in through the nose whilst simultaneously pushing the air collected in your mouth into the instrument.
The newly published book Infinity. Circular breathing presents the history of the technique, methods of circulating while playing the flute, and a collection of examples from music literature. It also describes various contexts of permanent breath, and advantages that result from working on the development of that skill. The course book with instructions comes in a set with an exclusive collection of exercises, études, and a choice of various pieces composed especially for the Infinity project by an international bevy of composers. The exercises marked with a camera icon have been recorded and made available to help you see the proper way of completing them.
A characteristic feature of the method described is the fact that it does not require the flutist to change embouchure while circular breathing. The presented positioning of the tongue, throat, lips, and cheeks is adapted to the player's individual embouchure. The starting point for working on the material that this book comprises is the correct drawing of breath, and correct functioning of all the elements necessary for proper production of sound.
Finalist: NFA Newly Published Music Awards 2021
Difficulty guide:
7-9
Difficulty level, roughly compared to ABRSM exam grades. 0 is beginner, 9 is advanced (beyond grade 8).
Contents
Course Book:
History of the circular breathing technique
Circular breathing technique: introduction
Circualar breathing for flutists
Exercises using the Phuemo Pro and the headjoint
Exercises with the body of the flute
The use of circular breathing in flute literature
Descriptions of exercises, etudes and works
Exercises, Etudes and Works:
Performance indications
Exercises
Vocalise
Fish in an Aquarium
La Musica delle forme
Pi
Windspire
Blues for N
Etude Op10 No2
Le Api
385 x 40 Mpx. Luca Marenzio but w i d e, filtrered and reversed
Floating Landscapes
Flute Diving