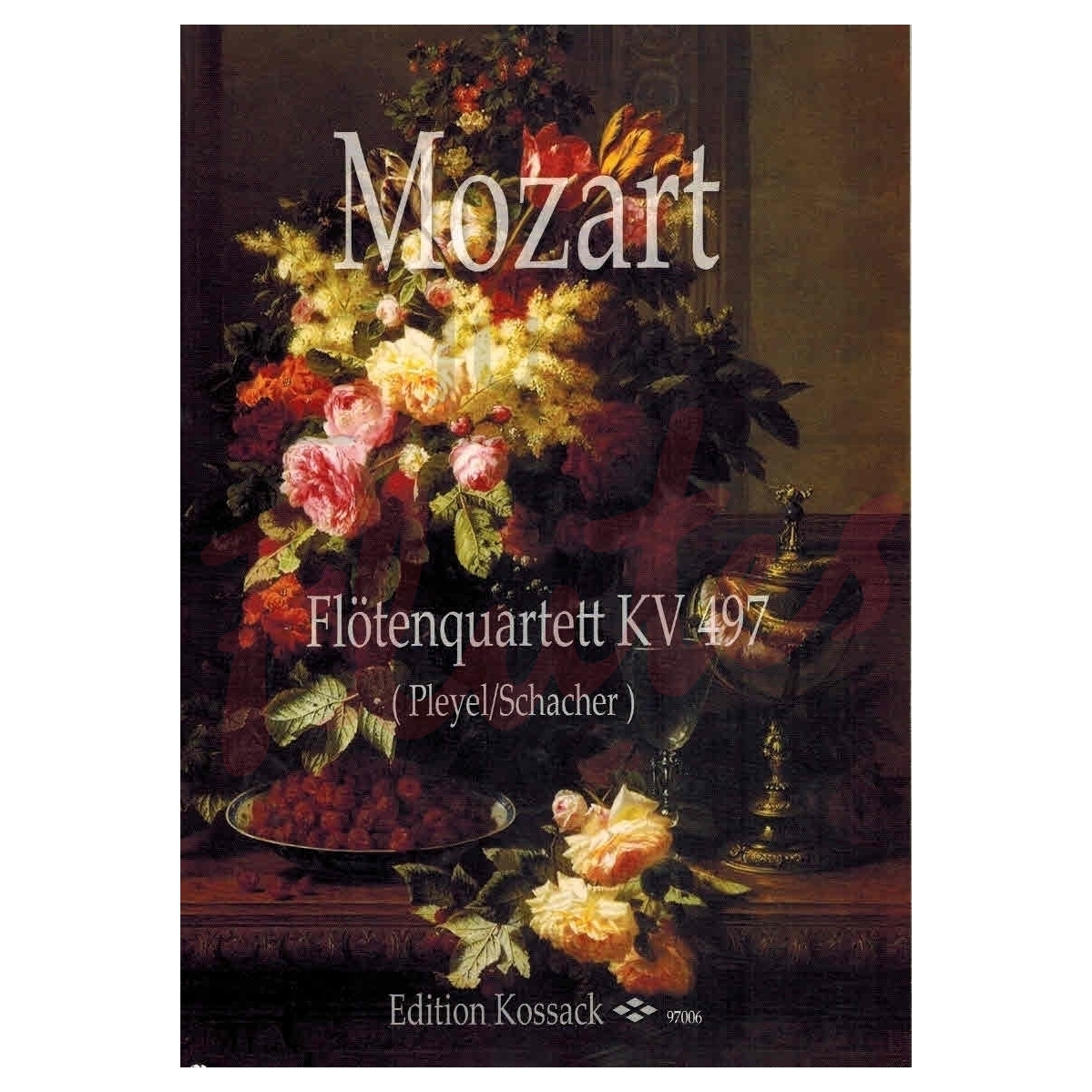 Flute Quartet [Flute, Violin, Viola, Cello], KV 497
Staff Pick
"More great Mozart!"
This is a great addition to the repertoire even if there are already 3 original works to choose from - you can never have too much Mozart! This arrangement by Ignaz Pleyel was discovered relatively recently and has been revised and edited by Ziegler and the Casal Quartet. The voicing has been handled sensitively and the whole work is a joy to play. Give it a go - a whole evening of Mozart quartets perhaps?
From the Publisher
edited by Matthias Ziegler
In the estate of the flutist Conrad Klemm (1925-2010) was a printed edition of a work by Wolfgang Amadeus Mozart in an arrangement by Ignaz Pleyel (1757-1831).
The work is a sonata for piano four hands F major KV 497.
The arrangement by Ignaz Pleyel is part of a collection of arrangements that appeared under the title Trois quatuors pour flute, violon, viole et basse, Opera 38. Gravés par Richomme .
Source: Frans Vester, Flute Music of the 18th Century, M 642, [Paris, I. Pleyel, no.1286]
On closer inspection, it became clear that Ignaz Pleyel had changed the work to suit his performance and commercial needs. So the slow middle movement was missing completely. The first movement, Adagio-Allegro di molto, was c . 70 bars and the final movement, Rondo Allegro (original name Allegro), approx . 115 bars have been cut .
I decided to record the work in a co-production with Radio SRF.
Christoph Keller, who directed the production, suggested that in such a weighty work, the missing parts be added. The composer Rodolphe Schacher then completed the first and last movement and completely rearranged the entire middle movement .
When arranging the arrangement for the recording, the piano original could only be used to a limited extent, since the instrumental implementation of the pianistic phrasing sheets on flute and strings in Pleyel's edition required some changes. In addition, the phrasing of Ignaz Pleyel differed greatly. I have tried, in collaboration with the Casal Quartet, to propose a coherent phrasing and articulation for all instruments. It is up to the interpreters to make their own decisions here .
Difficulty guide:
8
Difficulty level, roughly compared to ABRSM exam grades. 0 is beginner, 9 is advanced (beyond grade 8).
Movements
Adagio - Allegro
Andante
Rondo - Allegro