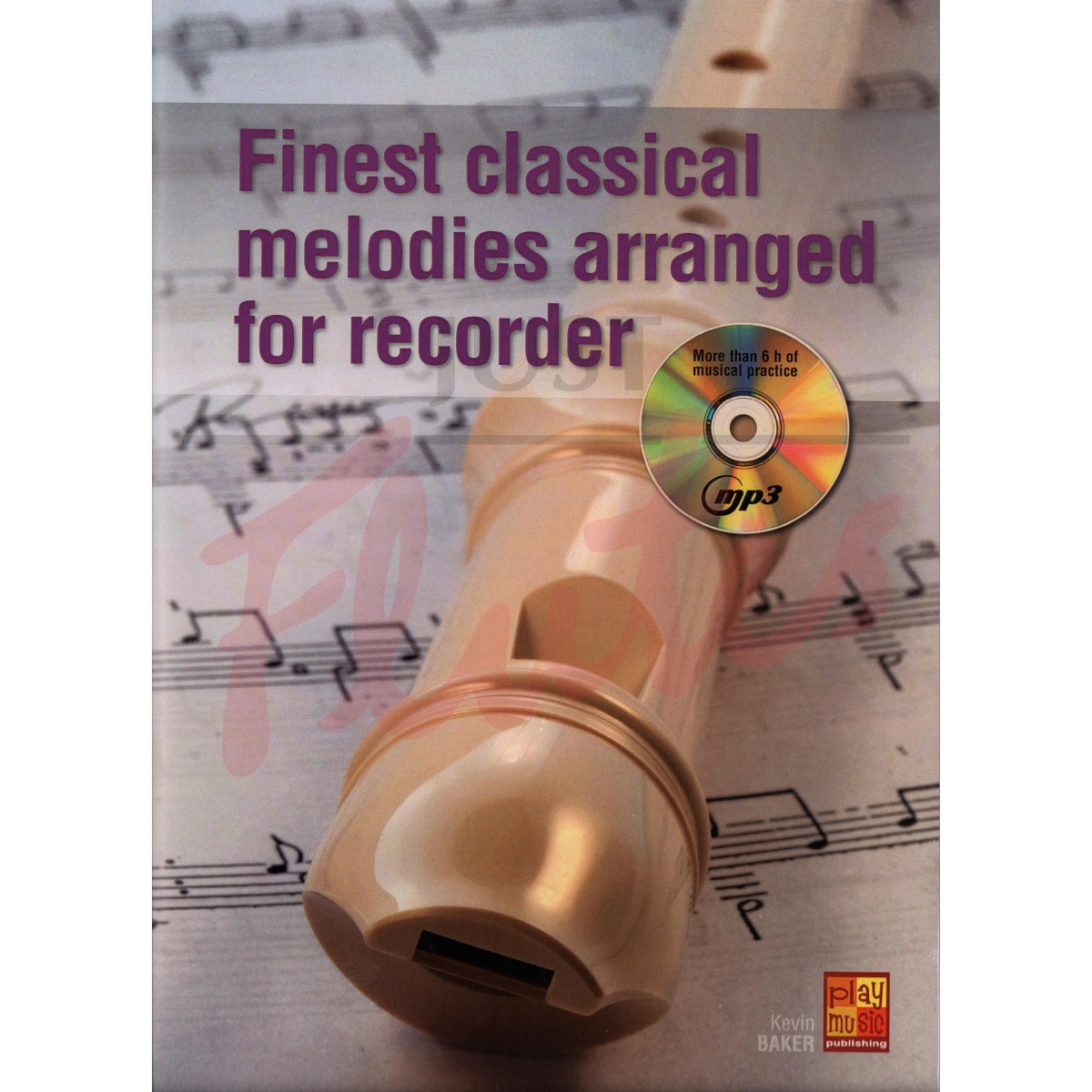 Finest Classical Melodies Arranged for Recorder
Difficulty guide:
2-6
Difficulty level, roughly compared to ABRSM exam grades. 0 is beginner, 9 is advanced (beyond grade 8).
Contents
Cantiga No.100 'Santa Maria strela do dia' (Alfonso X)
Today let us eat and drink (Juan del Encina)
Allemande No.6 (Susato)
Ronde and Saltarello (Susato)
Branle de Champagne (Gervaise)
Rinaldo 'Lascala ch'io painga' (Handel)
Suite in D minor 'Sarabande' (Handel)
Benedficat Vobis (Handel)
Te Deum (Charpentier)
Adagio (Albinoni)
Canon (Pachelbel)
The Four Seasons 'Spring' (Vivqaldi)
The Four Seasons 'Autumn' (Vivaldi)
The Four Seasons 'Winter' (Vivaldi)
Cantata 147 'Jesu Joy of Man's Desiring' (Bach)
Minuet in G major (Bach)
Minuet (Boccherini)
Orpheus and Eurydice 'What shall I do with my Eurydice' (Gluck)
Symphony No.94 'Surprise' 2nd mvt. Andante (Haydn)
Variations on 'Ah vous dirai-je, Maman' (Mozart)
Sonata No.11 3rd mvt Alla Turca - Allegrrtto 'Turkish March' (Mozart)
Clarinet Concerto 2nd mvt Adagio (Mozart)
The Magic Flute Papageno's Aria 'The birdcatcher I am indeed' (Mozart)
The Magic Flute 'rapid feet, brisk courage (Mozart)
The Magic Flute Papageno's Aria 'A girl or a little wife' (Mozart)
Serenade No.13 'A Little Night Music' (Mozart)
Dona Nobis Pacem (canon) (Mozart)
Minuet in G major (Beethoven)
Sonata No.14 1st mvt Adagio sostenuto 'Quasi una fantasia' - Moonlight (Beethoven)
Bagatelle 'To Elise' (Beethoven)
Symphony No.7 2nd mvt Allegretto (Beethoven)
Symphony No.9 4th mvt Presto (Berthoven)
Etude No.91 (Beyer)
Etude No.97 (Beyer)
Long, long ago (Bayly)
The Dancing Lesson (Lichner)
Ave Maria (Burgmuller)
Ave Maria (Schubert)
Song 'The Trout' (Schubert)
and many more...........