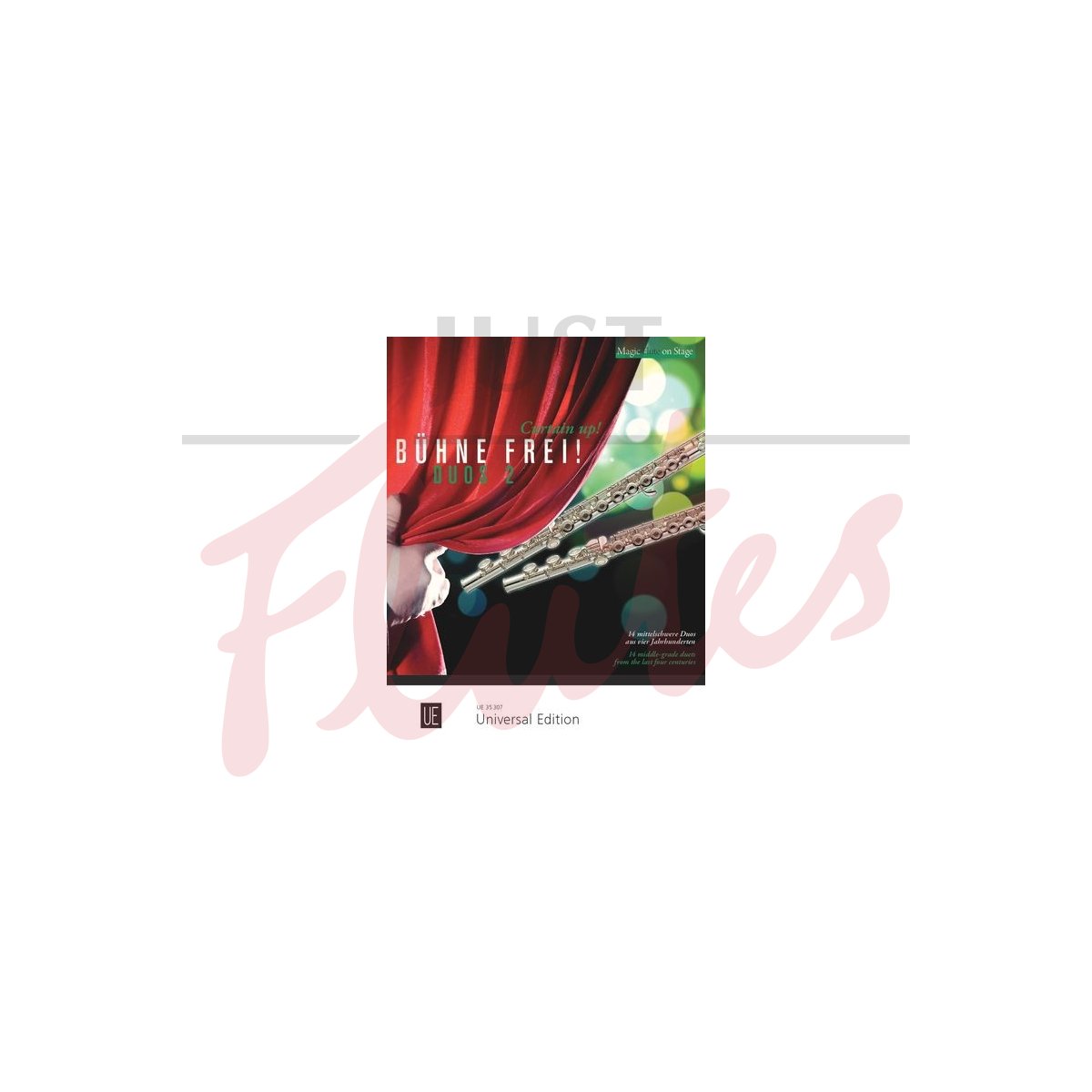 Curtain up! - Duets Book 2 [Flute] [Playing score]
From the Publisher
With so many young flautists in the musical world today it is only natural to pair them up and give them some wonderful duets to play. It's amazing what "big" music, these two small instruments can cope with; indeed, in the eighteenth century the flute duet was almost the gramophone record of the time as countless operatic arias were brought to the public in arrangements for this pairing.
This book draws on some of those miniaturizations, from Mozart's and Weber's operas, coupled with earlier music from Telemann and Boismortier and rounded off with more modern pieces from Richard Rodney Bennett and a (specially written) piece by Holzeis-Augustin which introduces some contemporary music techniques. All these duets are great fun and well within the reach of intermediate players.
Intermediate-level compositions and arrangements of music from Telemann and Mozart to Richard Rodney Bennett
Includes a lively composition by Maria Holzeis-Augustin
All duets are suitable as concert pieces and for competitions
Difficulty guide:
5-6
Difficulty level, roughly compared to ABRSM exam grades. 0 is beginner, 9 is advanced (beyond grade 8).
Contents
G. Ph. Telemann • Sonate D-Dur TWV 40:103 from Sonates sans basse à deux flûtes
J. B. de Boismortier • Concerto no 2 op. 2 7
I. Pleyel • Duett Nr. II/3 from12 Duette für 2 Flöten
W. A. Mozart Non più andrai from Die Hochzeit des Figaro
W. A. Mozart • Vedrai, carino from Don Giovanni
W. A. Mozart • Der Vogelfänger bin ich ja from Die Zauberflöte
C. M. von Weber • Durch die Wälder, durch die Auen from Der Freischütz
C. M. von Weber • Kommt ein schlanker Bursch gegange from Der Freischütz
F. Kuhlau • Duo concertant from 3 Duos concertants op. 1 0
E. Köhler • Andante sostenuto from 40 progressive Duette op. 5 5
R. R. Bennett • Zwiegespräche Nr. I, II, V from Zwiegespräche für zwei Flöten
M. Holzeis-Augustin • Im Auge des Betrachters
Item Details
Instrumentation
Part 1: Flute
Part 2: Flute
Category:
Flute Duet Books
Publisher:
Universal Edition
Publisher's reference:
UE35307
Our Stock Code:
1437096
Media Type:
Paperback - Playing score (50 pages [score])