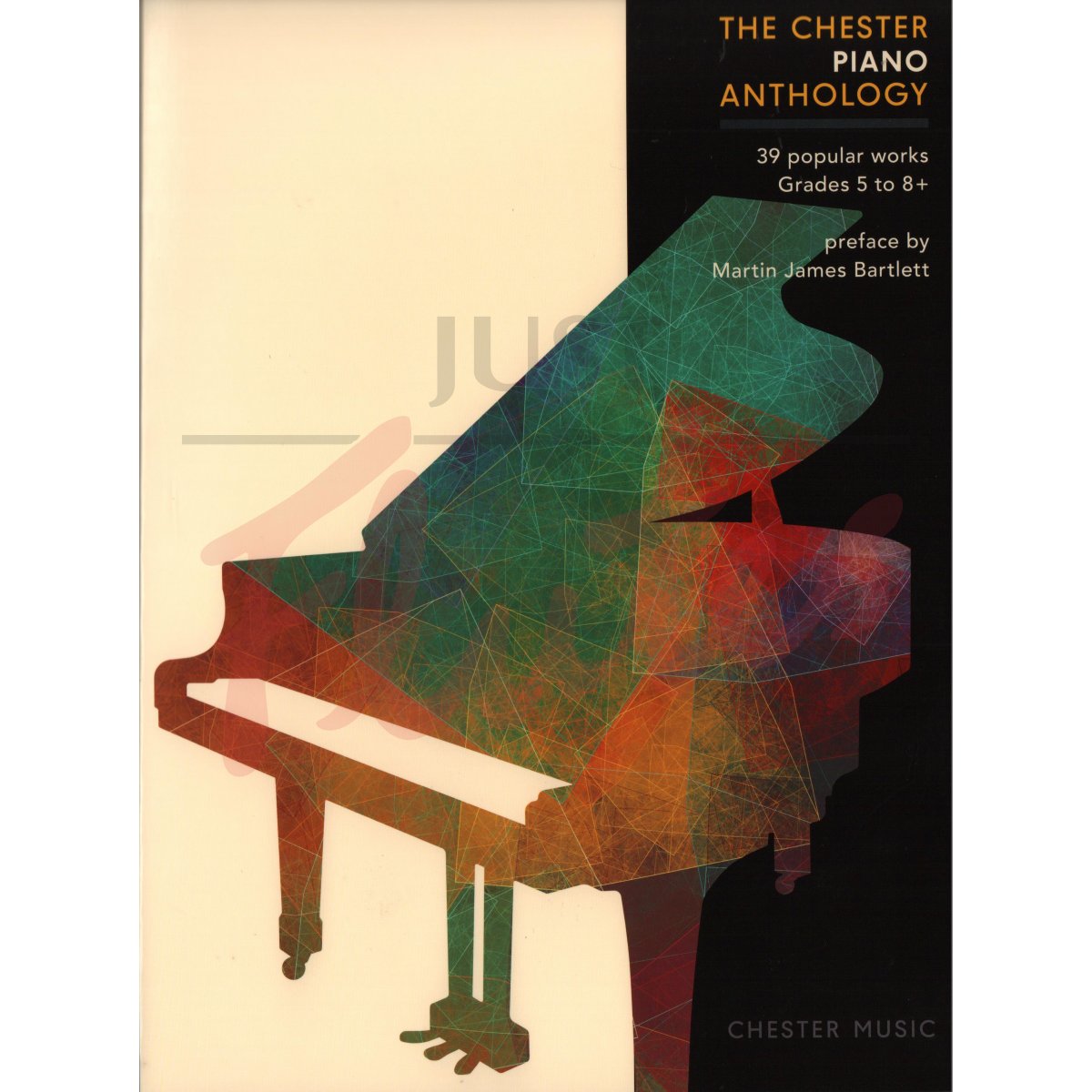 The Chester Piano Anthology
Compilation

Difficulty guide:
5-9
Difficulty level, roughly compared to ABRSM exam grades. 0 is beginner, 9 is advanced (beyond grade 8).
Contents
Ecce Ancilla Domini (Alain)
Sarabande (Arnold)
Essay III for Piano (Barber)
China Gates (Adams)
Romanian Folk Dances - VI Fast Dance (Bartok)
Two Turtle-Doves - No. 2 from Partridge Pie (Bennett)
Excursions - I Vivo (Bennett)
Prelude 5 from Six Preludes Op.23 (Berkeley)
Interlude No.5 from Two Interludes for Piano (Bliss)
Spanish Dance from Bagatelles Diverses (Chapple)
Sub Tuam Protectionem from Two Piano Pieces (Maxwell Davies)
Staccato Beans from Eight Memories (Tan Dun)
Trois Preludes - 1 D'Ombre et de silence (Duttilleux)
Sonatina - II Allegro (Elgar)
Danse du Meunier from The Three-Cornered Hat (de Falla)
Etude No.14 (Glass)
An Album for my Friends - II Adam's Allemande (Gregson)
Notturno alla Italiana - No.1 from Pieces d'amour (Hahn)
Sonatina 1947 - II Andantino (Henze)
Jig - 1932 (Holst)
Puck from Lyric Pieces Op.71 (Grieg)
and more.....
Item Details
Instrumentation
Category:
Piano Repertoire
Publisher:
Chester Music
Publisher's reference:
CH87219
Our Stock Code:
1418224
Media Type:
Paperback (160 pages [score])