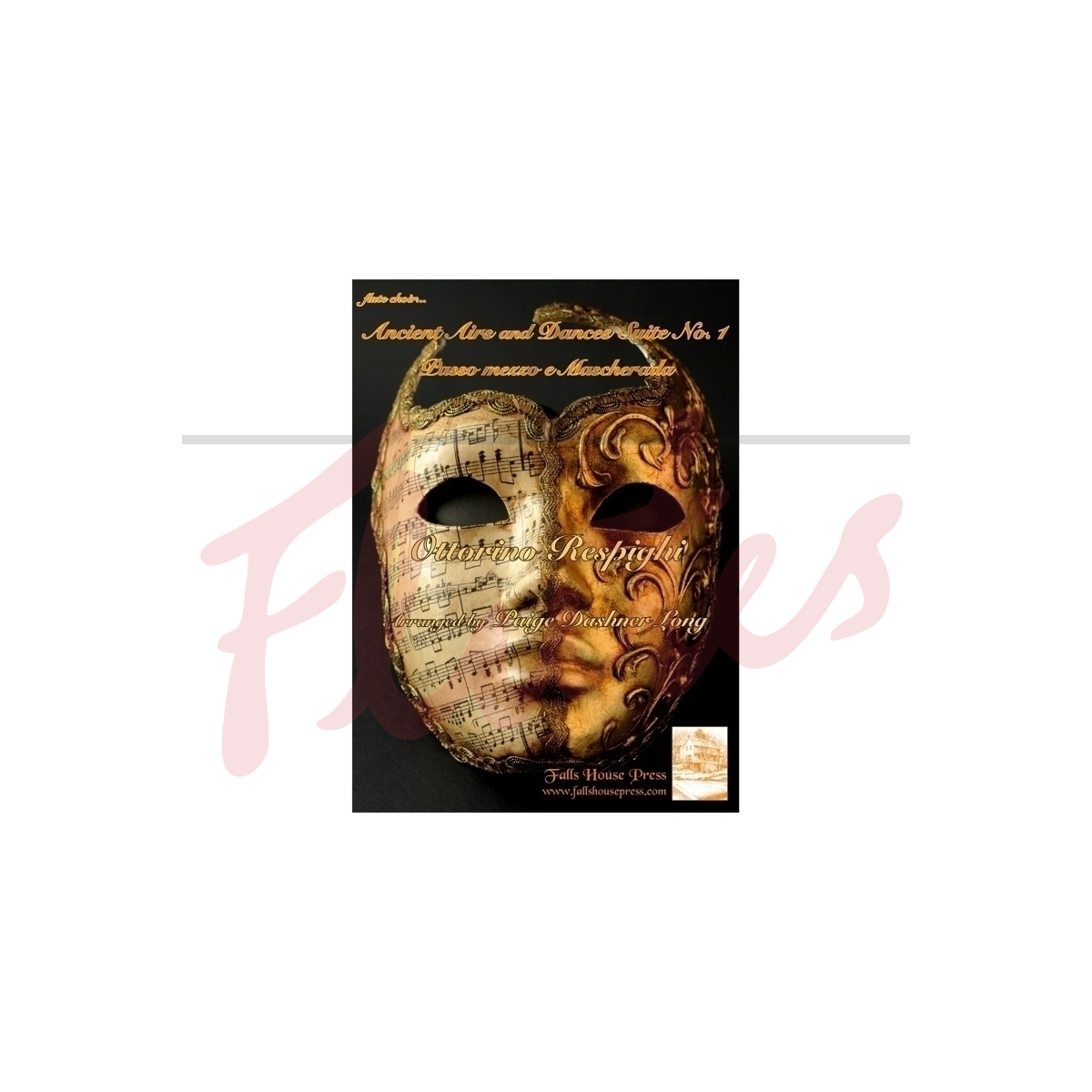 Ancient Airs and Dances Suite No 1
Interesting, worth a look
From the Publisher
Respighi's Mascherada from Ancient Airs and Dances Suite No 1 is now available for flute ensemble, arranged by Paige Dashner Long. This arrangement, premiered on July 25, 2010 by the New England Conservatory Summer Metropolitan Flute Festival Orchestra in New England Conservatory's renowned Jordan Hall, is scored for Flute 1, Flute 2, Flute 3, Flute 4, Flute 5, Alto Flute and Bass Flute, with optional Contrabass Flute. Mascherada has a difficulty level of 3 at a moderate tempo or level 4 at a vivacissimo tempo.
Ottorino Respighi (Bologna 1879- Rome 1936) was fascinated with early lute music, studying in particular the transcribed works of Oscar Chilesotti (1848-1916). Chilesotti transcribed several sixteenth and seventeenth century dances and airs for the lute. Respighi, a scholar of musical antiquity, choose several of these lovely ancient airs and dances, making three suites, each comprised of four movements. Using modern harmonies and orchestration, Respighi beautifully crafted these suites for chamber orchestra, each receiving enthusiastic response from audience and musicians. With a simple melodic line and rich orchestration, Respighi's unique talent and skill are showcased in these spirited compositions.
Passo mezzo e Mascherada from Ancient Airs and Dances Suite No 1 is the fourth movement of his delightful first suite. You will notice two contrasting sections: a fast paced passo mezzo and a light Italian 16th century secular choral song (villanella) or mascherada, which was typically sung at masked balls.
With careful attention to dynamic contrast, articulation and tempi changes, Passo mezzo e Mascherada beautifully showcases the different colors of a flute ensemble. Welcome to the masquerade ball!
Difficulty guide:
6-8
Difficulty level, roughly compared to ABRSM exam grades. 0 is beginner, 9 is advanced (beyond grade 8).
Item Details
Instrumentation
Part 1: Flute
Part 2: Flute
Part 3: Flute
Part 4: Flute
Part 5: Flute
Part 6: Alto Flute
Part 7: Bass Flute
Part 8 (Optional): Contrabass Flute
Category:
Flute Choir Music: 8 Mixed Flutes
Publisher:
Falls House Press
Publisher's reference:
FH0414
Our Stock Code:
1202557
Media Type:
Paperback - Score and parts