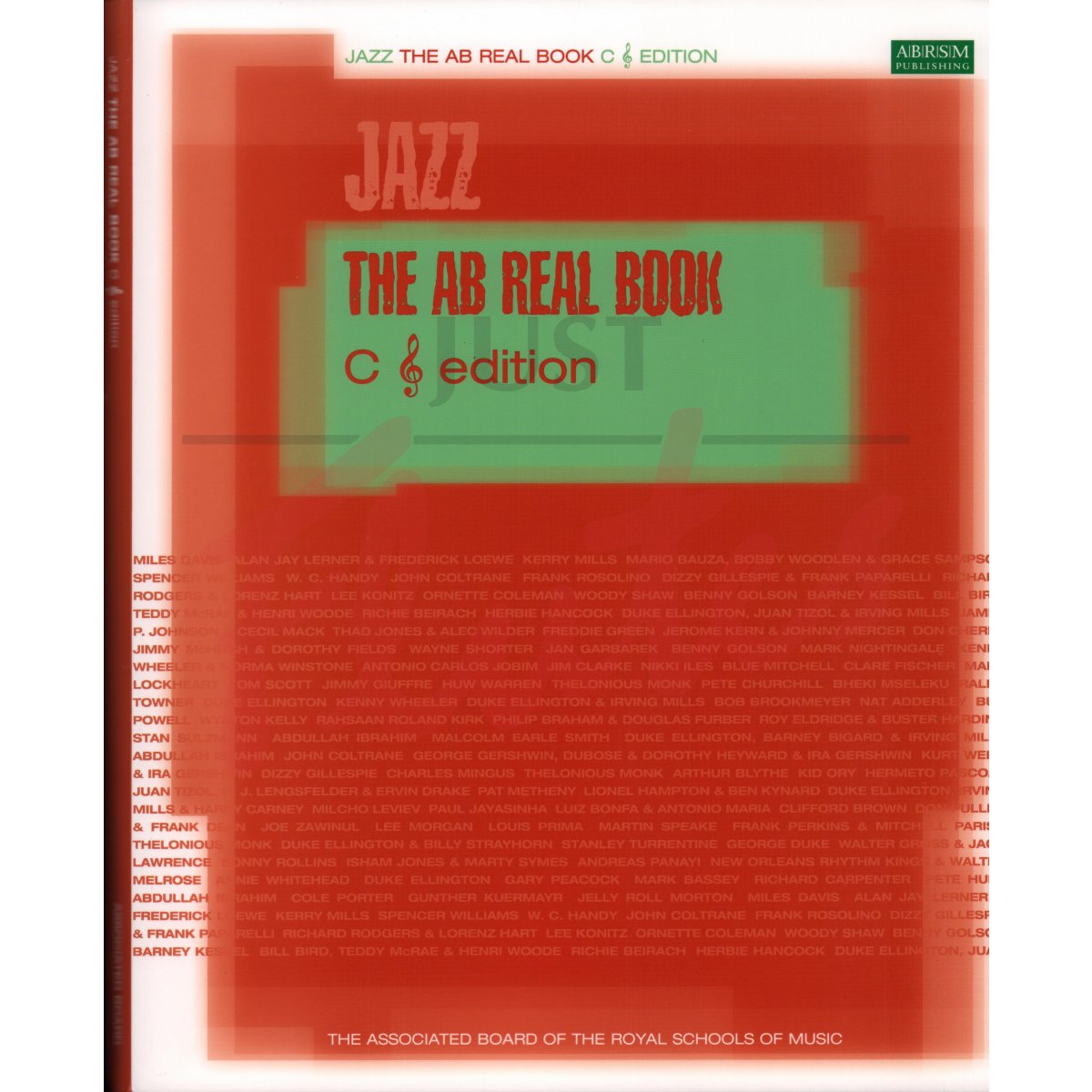 The AB Real Book (C/Treble Clef)
Approved Exam Music
Recommended for the following exam grade(s):
ABRSM Jazz exam syllabus
Grades: 4, 5
Our Description
An impressive range of jazz styles, from New Orleans to contemporary. All tunes suitable for less experienced players, with pitch range, chords and technical level carefully considered. Tunes in their most commonly played keys, with reliable melodies and chord changes. Arrangements - by jazz arrangers - that include sections for improvised solos, with helpful guideline pitches. A resource for bands and individuals, this book comes in B flat, E flat, C Treble-clef and C Bass-clef editions.
Difficulty guide:
4-8
Difficulty level, roughly compared to ABRSM exam grades. 0 is beginner, 9 is advanced (beyond grade 8).
Contents
Joe Zawinul arr. Pete Saberton 74 Miles Away
Pete Hurt A Walk in the Park
Miles Davis arr. Nikki Iles All Blues
Alan Jay Lerner, Frederick Loewe Almost Like Being In Love
Kerry Mills arr. Liam Noble At A Georgia Camp Meeting
Grace Sampson, Bobby Woodlen, Mario Bauza arr. Janette Mason At the Mambo Inn
Spencer Williams arr. Pete Churchill Basin Street Blues
W. C. Handy arr. Liam Noble Beale Street Blues
John Coltrane arr. Steve Melling Bessie's Blues
Dizzy Gillespie, Frank Paparelli arr. Liam Noble Blue 'n' Boogie
Frank Rosolino arr. Pete Churchill Blue Daniel
Richard Rodgers, Lorenz Hart arr. Bill Kinghorn Blue Room
Lee Konitz arr. Meredith White Blue Samba
Ornette Coleman arr. Liam Noble Blues Connotation
Woody Shaw, Ronald Mathews arr. Nikki Iles Blues For Wood
Benny Golson arr. Nikki Iles Blues March
Barney Kessel Brazilian Beat
Bill Bird, Teddy McRae, Henri Woode arr. Phil Peskett Broadway
Richie Beirach arr. Nikki Iles Broken Wing
Herbie Hancock arr. Nikki Iles Cantaloupe Island
Duke Ellington, Juan Tizol, Irving Mills arr. Charles Beale Caravan
James P. Johnson, Cecil Mack arr. Keith Nichols Charleston
Thad Jones, Alec Wilder arr. Iain Dixon Child Is Born, A
Freddie Green arr. Pete Churchill Corner Pocket
Jerome Kern, Johnny Mercer arr. Bill Kinghorn Dearly Beloved
Don Cherry arr. Chris Batchelor Dedication To Thomas Mapfumo
Dorothy Fields, Jimmy McHugh arr. Huw Warren Diga Diga Doo
Wayne Shorter arr. Nikki Iles El Gaucho
Jan Garbarek arr. Nikki Iles Entering
Benny Golson arr. Pete Churchill Five Spot After Dark
Mark Nightingale Flood Warning
Kenny Wheeler, Norma Winstone arr. Nikki Iles For Jan
Antonio Carlos Jobim arr. Simon Woolf Fotografia
Jim Clarke arr. Liam Noble Fourth Man, The
Nikki Iles Fraz and Em
Blue Mitchell arr. Huw Warren Fungii Mama
Clare Fischer arr. Pete Churchill Gaviota
Mark Lockheart arr. Pete Churchill Going Home
Tom Scott arr. Pete Churchill Gotcha (Theme from Starsky & Hutch)
Jimmy Giuffre arr. Dave Bitelli Gotta Dance
Huw Warren Greens
Theolonius Monk arr. Liam Noble Hackensack
Pete Churchill Heavy Plant Crossing
Bheki Mseleku arr. Liam Noble Homeboyz
Ralph Towner arr. Stan Sulzmann Icarus
Duke Ellington arr. Liam Noble In A Mellow Tone
Kenny Wheeler arr. Nikki Iles Introduction To No Particular Song
Duke Ellington, Irving Mills arr. Brian Priestley It Don't Mean A Thing (If It Ain't Got That Swing)
Bob Brookmeyer arr. Huw Warren Jive Hoot
Philip Flood arr. Eduard Schütt Jive Samba
Bud Powell arr. Phil Peskett Keepin' in The Groove
Wynton Kelly arr. Pete Churchill Kelly Blue
Rahsaan Roland Kirk arr. Dave Bitelli Laugh For Rory, A
Philip Braham arr. Liam Noble Limehouse Blues
Roy Eldridge, Buster Harding arr. Brian Priestley Little Jazz
Stan Sulzmann Lucky Rhumba
Abdullah Ibrahim Mandela
Malcolm Earle Smith arr. Mark Bassey Melody for Candy
Duke Ellington, Barney Bigard, Irving Mills arr. Pete Churchill Mood Indigo
Abdullah Ibrahim arr. Pete Churchill Mountain, The
John Coltrane arr. Phil Peskett Mr P.C.
George Gershwin, Ira Gershwin, Dubose Heyward, Dorothy Heyward arr. Nikki Iles My Man's Gone Now
Kurt Weill, Ira Gershwin arr. Nikki Iles My Ship
Dizzy Gillespie arr. Nikki Iles Night in Tunisia, A
Charles Mingus arr. Phil Peskett Nostalgia In Times Square
Theolonius Monk arr. Liam Noble Nutty
Arthur Blythe arr. Chris Batchelor Odessa
Kid Ory arr. Brian Priestley Ory's Creole Trombone
Hermeto Pascoal arr. Charles Beale Papo Furado
Ervin Drake, Harry Lenk, Juan Tizol arr. Brian Priestley Perdido
Pat Metheny arr. Nikki Iles Phase Dance
Lionel Hampton, Ken Kynard arr. Pete Churchill Red Top
Duke Ellington, Irving Mills, Harry Carney arr. Dave Bitelli Rockin' in Rhythm
Milcho Leviev arr. Issie Barratt Sad, A Little Bit
Paul Jayasinha Samba Dancer, The
Luis Bonfa, Antonio Maria arr. Andrea Vicari Samba de Orfeu
Clifford Brown arr. Pete Churchill Sandu
Frank Dean, Don Pullen arr. Liam Noble Saturday Night In The Cosmos
Lee Morgan arr. Liam Noble Sidewinder, The
Louis Prima arr. Janette Mason Sing, Sing, Sing
Martin Speake Small World
Frank Perkins, Mitchell Parish arr. Steve Hill Stars Fell on Alabama
Theolonius Monk arr. Steve Hill Straight, No Chaser
Duke Ellington, Billy Strayhorn arr. Michael Garrick Such Sweet Thunder
Stanley Turrentine arr. Pete Churchill Sugar
George Duke arr. Pete Churchill Sugar Loaf Mountain
Walter Gross, Jack Lawrence arr. Pete Churchill Tenderly
Sonny Rollins arr. Pete Churchill Tenor Madness
Isham Jones, Marty Symes arr. Pete Churchill There Is No Greater Love
Andreas Panayi Time Dis-Played
Walter Melrose, New Orleans Rhythm Kings arr. Pete Churchill Tin Roof Blues
Annie Whitehead To Dudu
Duke Ellington arr. Liam Noble Twitch, The
Gary Peacock arr. Nikki Iles Vignette
Mark Bassey Visions
Richard Carpenter arr. Malcolm Edmonstone Walkin'
Abdullah Ibrahim arr. Nikki Iles Wedding, The
Cole Porter arr. Bill Kinghorn What Is This Thing Called Love?
Gunther Kuermayr arr. Charles Beale, Mike Hall Window, The
Jelly Roll Morton arr. Keith Nichols Winin' Boy Blues