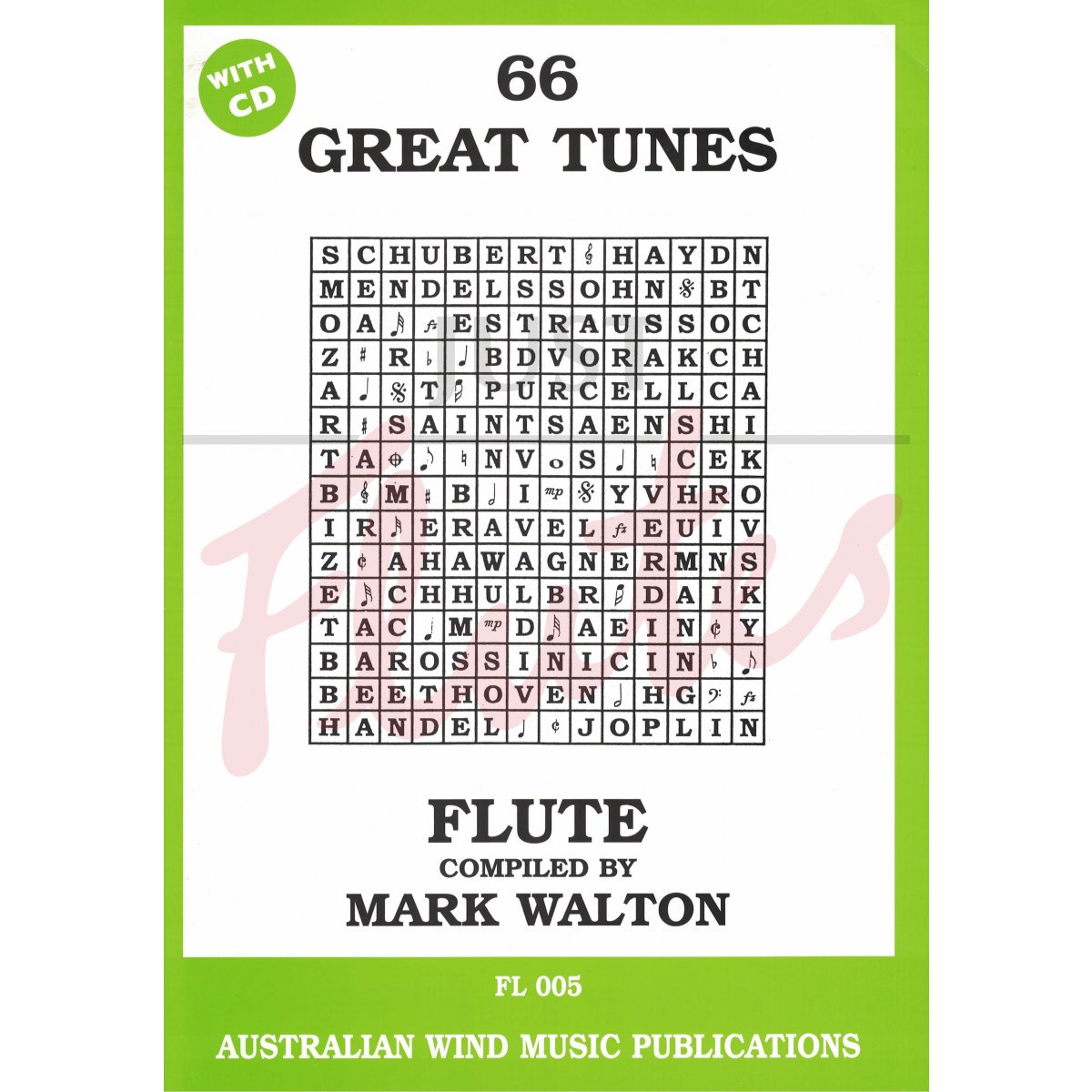 66 Great Tunes for Flute
Includes CD
Difficulty guide:
3-7
Difficulty level, roughly compared to ABRSM exam grades. 0 is beginner, 9 is advanced (beyond grade 8).
Contents
Badinerie (JS Bach)
Minuet (JS Bach)
Choral Symphony (Beethoven)
Minuet (Beethoven)
Shepherd's Thanksgiving (Beethoven)
Sonatina (Beethoven)
Symphony No.5 (Beethoven)
Carmen - The Castanet Song (Bizet)
Minuet (Boccherini)
Hungarian Dance (Brahms)
Le Petit Negre (Debussy)
Largo (Dvorak)
La Cinquantaine (Gabriel-Mare)
Tambourin (Gossec)
Morning (Grieg)
Bouree (Handel)
Quartet Theme (Haydn)
Serenade (Haydn)
Trumpet Concerto (Haydn)
New Rag (Joplin)
The Entertainer (Joplin)
Plaisir D'Amour (Martini)
Violin Concerto (Mendelssohn)
Don Giovanni - La Ci Darem La Mano (Mozart)
Eine Kleine Nachtmusik (Mozart)
Lullaby (Mozart)
Sonata in C (Mozart)
Symphony No. 40 (Mozart)
The Magic Flute - Papageno's Aria (Mozart)
The Marriage of Figaro - Non Piu Andrai (Mozart)
The Marriage of Figaro - Voi Che Sapete (Mozart)
The Marriage of Figaro Overture (Mozart)
Turkish Rondo (Mozart)
Barcarolle (Offenbach)
Dance of the Hours (Ponchielli)
Rondo from The Moor's Return (Purcell)
Trumpet Voluntary (Purcell)
Le Tambourin (Rameau)
Bolero (Ravel)
The Barber of Seville Overture (Rossini)
William Tell (Rossini)
The Swan (Saint-Saens)
Marche Militaire (Schubert)
Symphony No.5 (Schubert)
The Trout (Schubert)
Unfinished Symphony (Schubert)
The Merry Peasant (Schumann)
The Wild Horseman (Schumann)
Die Fledermaus Waltz (Strauss)
The Blue Danube Waltz (Strauss)
Danse of the Mirlitons (Tchaikovsky)
March from The Nutcracker Suite (Tchaikovsky)
Old French Song (Tchaikovsky)
Swan Lake (Tchaikovsky)
Dixie (Traditional)
Floral Dance (Traditional)
Greensleeves (Traditional)
English Country Garden (Traditional)
When The Saints Go Marching In (Traditional)
Carnival of Venice (Traditional)
Grand March from Aida (Verdi)
Rigoletto - La Donna e Mobile (Verdi)
Concerto for 2 Trumpets (Vivaldi)
Winter from 'The Four Seasons' (Vivaldi)
The Ride of the Valkyries (Wagner)
Wedding March (Wagner)
Please note that where the contents refer to 'Symphonies' and 'Concerto', this is not the full work but the most famous themes from them. This will also be the case with some other pieces.