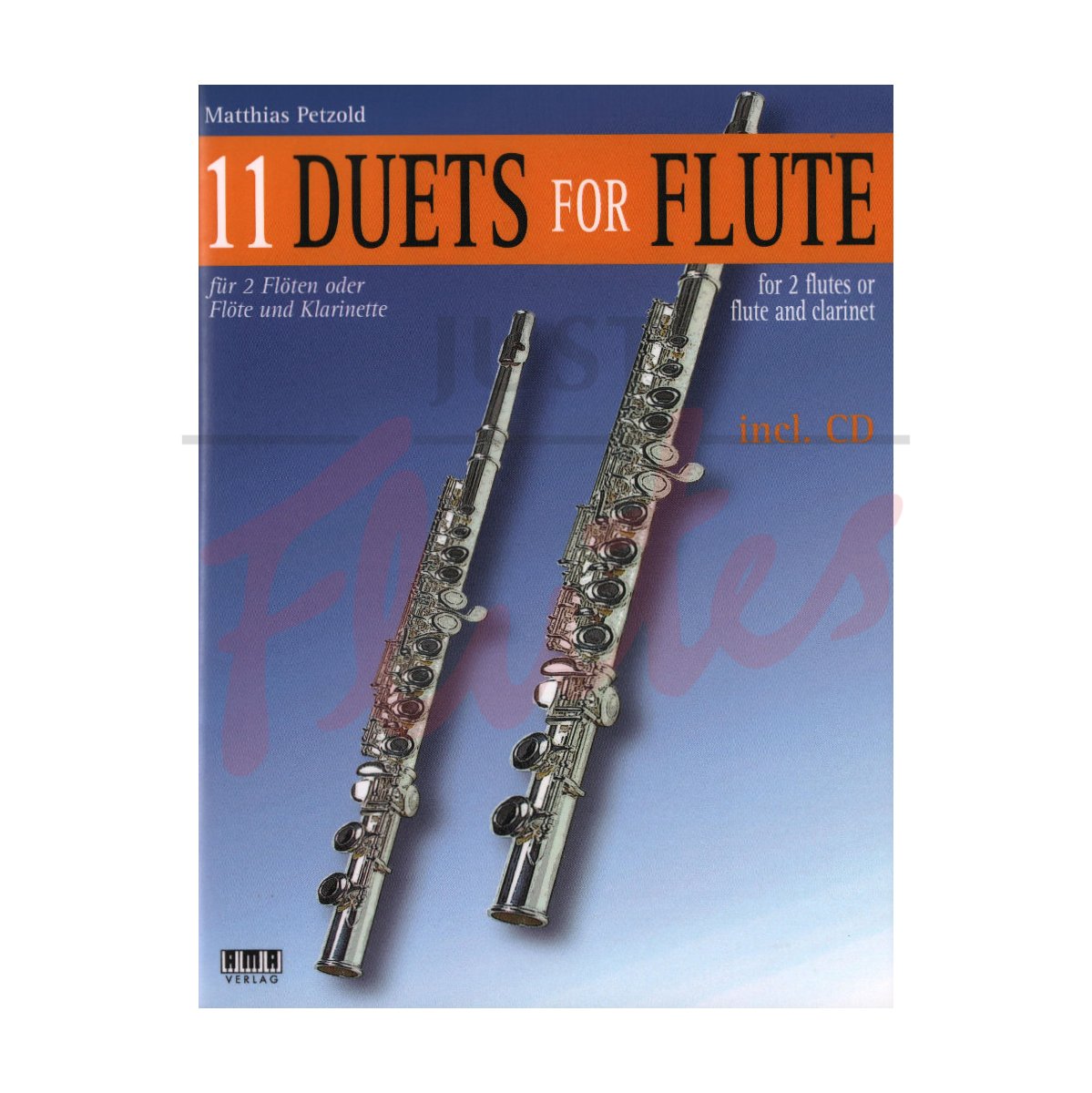 11 Duets for Flute
Includes CD
Staff Pick

Editor's Choice
Staff Pick
"These duets are great!"
These are such great duets! All eleven are really appealing, mostly of the foot-tapping variety but with a couple of slower numbers too. Jazz, blues, calypsos and a charming waltz all coexist happily in this book, with approachable keys that only venture as far as three sharps. There is some rhythmic unity in the part writing but independence as well, so there are plenty of new skills to be learned in order to play each one well. The addition of an alternative clarinet part and the CD, which includes both demo and backing tracks, makes this book even more tempting as well as endlessly useful!
From the Publisher
The 11 duets I wrote for saxophone have enjoyed tremendous popularity. They're used as lesson material, performed at student concerts or family celebrations and are included in programs created for youth music competitions.
Here is a version for two flutes or for the flute /clarinet combination. It is aimed at students who have been playing their instrument for about two to three years and already have some experience with reading music and key keys. In the editing, we were guided by the goal that the pieces should be adapted as well as possible to the sound and the pitch of the flute. Accordingly, we have re-selected the keys. The compositions cover a wide stylistic spectrum, from jazz to calypso, from blues to french musette waltzes. In addition to getting to know different styles of music, the pieces have one main goal: to convey the joy of making music.
The CD contains full demo versions of the songs as well as play-alongs with piano accompaniment. Since the flute parts in the demo versions are on separate channels, you can mute one of the flutes with the balance control of the stereo system and then play this voice yourself for recording.
I wish all budding flutists a lot of fun with this issue. As one of the composition titles says: "Keep On Movin'"!
Matthias Petzold
Difficulty guide:
3-5
Difficulty level, roughly compared to ABRSM exam grades. 0 is beginner, 9 is advanced (beyond grade 8).
Contents
Stimmton
Havanna Sunrise
Flohmarkt (Flea Masrket)
Cold Coffee Blues
Le Chat Sourient
Keep on Movin'
Whistling
October
Face to Face
Three Lemons and a Coconut
Moonlight on the Waves
Next Train to Brooklyn
Item Details
Instrumentation
Part 1: Flute
Part 2: Flute or Bb Clarinet
Category:
Music for Unaccompanied Flute and Clarinet
Publisher:
AMA Verlag
Publisher's reference:
AMA610290
Our Stock Code:
1431797
Media Type:
Paperback (27 pages [score]); includes accompaniment CD