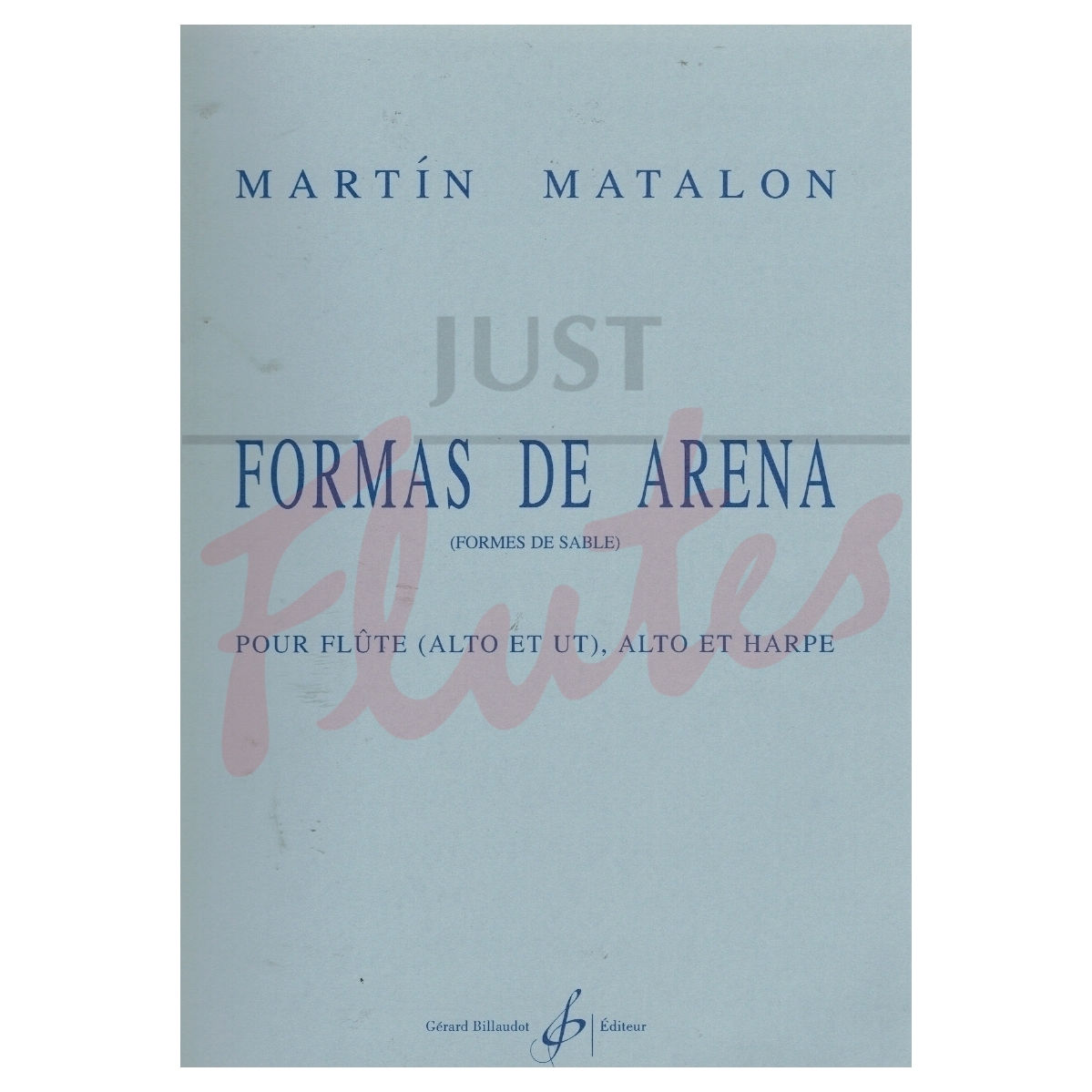 Formas de Arena for Alto Flute, Viola & Harp
Interesting, worth a look
From the Publisher
Written in 2001 for the Nobis Trio and dedicated to their harpist, Nicolas Tulliez, Formas de arena consists of four linked movements. The first, which is elaborated round the alto flute, is made up of an ethereal web of great transparency. The musical material attributed to the flute gives rise to rapid comings-and-goings between the three protagonists, who establish complex ties by weaving a sort of gossamer 'mobile'. The instruments give themselves over to constant, mutual reinterpretation, which goes from literal imitation and echo to the freest allusion and the play of a distorting mirror whose reflection is muddled by the innumerable colour changes.
The conception of the second movement is simpler. The overheated viola—the score is marked 'saturated sound'—appears in a clanking noise (a 'zinc coating' obtained with the harp pedals), launching a frenzied forward motion in which the flute participates, drawing lines with broad strokes. As soon as the motion flags a bit, it takes off again in the metallic racket of the harp, which sends out calls and relentlessly articulates the whole movement.
Once the 'kinetic' energy is dissipated, the rhythmic influx is harnessed in the following movement by the three beats of a playful waltz, where the instruments become entangled in unpredictable phrasings…
Of a more ethereal nature, the final movement shows the harp off to advantage, establishing a gentle, haunting rocking while forming very free, evanescent figures. The other two partners corroborate and develop these figures, occasionally giving them, through sound effects and playing methods, a particular colour and character.
It is this last movement that inspired the work's title.
Performance duration (approx): 13'00
Difficulty guide:
9
Difficulty level, roughly compared to ABRSM exam grades. 0 is beginner, 9 is advanced (beyond grade 8).
Contents
Leggiero
-
Valse
Item Details
Instrumentation
Part 1: Alto Flute doubling on Flute
Part 2: Viola
Part 3: Harp
Category:
Music for Alto Flute and Other Instruments
Publisher:
Gérard Billaudot Éditeur
Publisher's reference:
GB7235
Our Stock Code:
1035933
Media Type:
Paperback - Score and parts (35 pages [score])