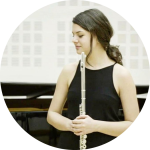 Carina Udriste
London NW2
DBS Checked
Profile last updated: 25 Oct 2021
Prior coming to the UK, I've been concert soloist with Banatul State Philharmonic, and principal flute with Ion Vidu Symphony Orchestra. At the moment, I'm active as a freelancer, involved in orchestral projects, and finished my professional placement with the BBC Philharmonic.
I've been blessed with learning from fantastic musicians and flute players, and it would be my pleasure to pass on my knowledge. Regardless of age/level of playing, I hope to cover more than just flute playing or music theory, and to introduce the pupil more into the music itself. As always, I'm open and wish to learn from my students as much as they could from me.
I will cover flute playing and music theory/history that correspond with the repertoire, and will provide ideas for a practice plan, highlighting the goals and aims the student should be targeting for making the most out of their learning process. Music theory available in both systems of notation: letters and Do, Re, Mi, etc.
What I teach:
Flute

Beginner
Intermediate
Advanced

Theory

Beginner
Intermediate
Advanced
Where I teach
I teach online
I can travel to you
Qualifications
Fees
30 minutes: £20.00
60 minutes: £35.00