Nottingham Flute Choir
Nottingham Flute Choir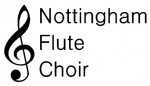 Nottingham Flute Choir
Nottingham Flute Choir is a newly formed, friendly flute choir.

We rehearse once a week during the university academic year (October - June).

We perform in several concerts each year, with the university and independently. We play all sorts of music from Telemann's La Caccia to Taylor Swift's Shake It Off!

Please look at http://clemencie.co.uk/flute-choir.html for more information.
Rehearsals
Performances
A few times a year. Recently performed at the ABRSM Nottingham High Scorers' Concert.
Membership: £0.00 ()
Players
Teenagers
Adults
Between Grades 3 and 9
Contact:
Clemencie Gatenby: 01159757838 (Please remember to mention Just Flutes when you call.)