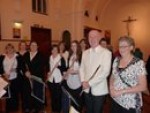 Champagne Flutes
We are a friendly group of amateur flautists who meet once a month on a Sunday afternoon, to enjoy playing together. We have around 15 members, so can play music in a variety of formations, including piccolo, bass and alto flutes. The standard of music requires an ability level of grade 5+. Part playing means that players of more experience can be stretched whilst those wishing to have more support can share parts. We aim to give 2 or 3 informal concerts a year, often in conjunction with other local music groups. We are enjoying playing together again after months of zoom!
People often say they would like to join but 'haven't picked up my flute for years' - that's fine - come and try a rehearsal - you won't be made to play a solo and you can re-ignite your flute playing at a level to suit you.
Do get in touch - we look forward to meeting you.
You can find out more about us on Facebook. Search for Champagne Flutes.
Rehearsals
Monthly, 2nd Sunday 2-4.30pm at Royal British Legion Band Room Warley
Postcode CM15
Performances
2 or 3 informal concerts a year for charity. Some of the group play for occassional weddings, parties etc.
Membership: £70.00 (per year. )
Players
Adults
Between Grades 5 and Post Grade 8
Contact:
Judith Underwood: 07456 493088 (Please remember to mention Just Flutes when you call)