Champagne Flutes
Champagne Flutes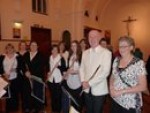 Champagne Flutes
We are a friendly group of flautists who meet once a month to enjoy playing together. We have around 20 members, so can play music in a variety of formations, including piccolo, bass and alto flutes. The standard of music requires an ability level of grade 5+. Part playing means that players of more experience can be stretched whilst those wishing to have more support can share parts. We aim to give 2 or 3 informal concerts a year, often in conjunction with other local music groups.
People often say they would like to join but 'haven't picked up my flute for years' - that's fine - come and try a rehearsal - you won't be made to play a solo and you can re-ignite your flute playing at a level to suit you.
Do get in touch - we look forward to meeting you.
Rehearsals
Performances
2 or 3 informal concerts a year for charity. Some of the group play for occassional weddings, parties etc.
Membership: £5.00 (per session)
Players
Adults
Between Grades 5 and 9
Contact:
Judith Underwood: 01277 231081 (Please remember to mention Just Flutes when you call.)