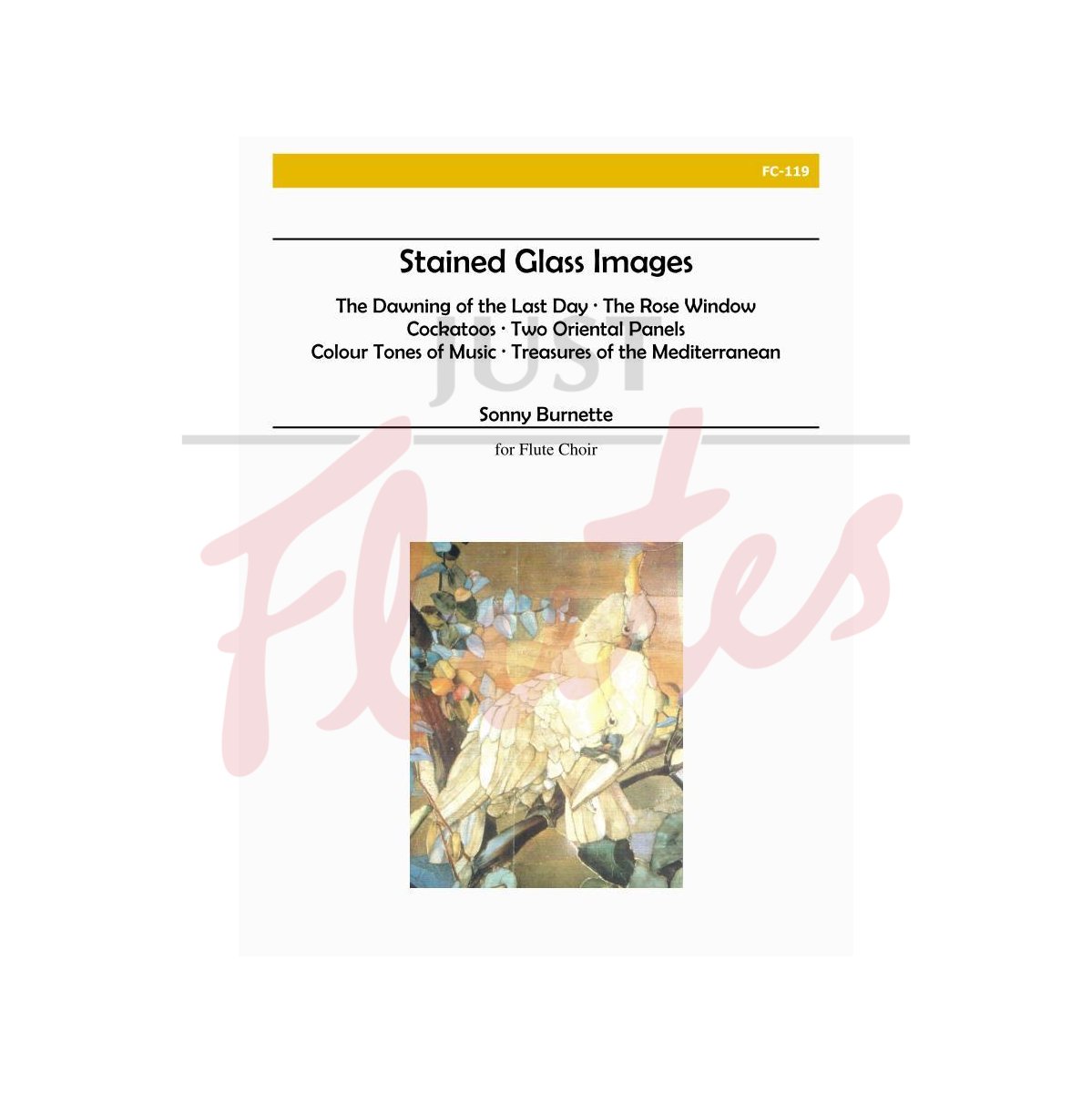 From the Publisher
Winner of the 1995 Fifteenth Annual James Madison University Flute Choir Composition Competition. A major work for flute choir, These six movements are all based on actual stained glass panels. Score is accompanied by a CD containing images of the stained glass; a marvelous way to share the art with your audiences and provide a unique presentation.
Previously only available as seperate movements, this new 2012 edition of Stained Glass Images contains all the movements in one convenient volume.
Difficulty guide:
7
Difficulty level, roughly compared to ABRSM exam grades. 0 is beginner, 9 is advanced (beyond grade 8).
Movements
The Dawning of the Last Day - Based on the 1891 panel by Frederick Ashwin. The subject is captured in the minor tonality and ethereal melodic lines. (2:10)

The Rose Window - The rose window from the 16th century Gothic Sens Cathedral in France depicting eternity and infinity in perfect symmetry and order. (2:10)

Cockatoos - A late 19th century Tiffany window depicting two cockatoos in a tropical forest setting. The music captures the playful antics of the cockatoos. (1:30)

Two Oriental Panels - Two panels designed in 1888 by William Stewart, inspired by the beauty of Japan. The music is four layered melodic lines characterizing swirling asymmetrical naturalism. (1:50)

Colour Tones of Music - Created for a German radio station by George Meistermann with various abstract lines suggestive of musical elements. (1:50)

Treasures of the Mediterranean - Two panels by Quagliata, the first being an abstract male torso with emerging aquatic creatures, the second representing the sea. The music struggles between good and evil with final peaceful aquatic imagery. (1:55
Item Details
Category:
Flute Choir Music: 8 Mixed Flutes
Publisher:
ALRY Publications
Publisher's reference:
FC119
Part of the
Stained Glass Images
series
Our Stock Code:
935548
Media Type:
Paperback