Yamaha YDS-150 Digital Saxophone
Not yet available
- pre-order now for delivery on or after
30 October 2020
.
Perfect Performance Plan
Included with every new instrument:
Pre-Sale Set-Up

Owner's Check-Up

Three-Year Warranty
Manufacturer's Description
The Yamaha YDS-150 Digital Saxophone allows you to enjoy playing any time, anywhere.
The YDS-150 was designed to be a saxophone that would allow anyone to experience the joy of performing, anytime, anywhere. This groundbreaking new wind instrument retains the full expressiveness of the saxophone, yet - unlike an acoustic saxophone - it can be as quiet as you want, making it more convenient and easier to play.
Yamaha's patented Integrated Bell Acoustic System is a fusion of traditional saxophone design and advanced digital technologies that offers the uniquely rich sound of an acoustic saxophone while also allowing you to enjoy playing without regard for time or place. Sound can be produced by simply blowing into the mouthpiece, while volume and tone can be carefully modulated using the intensity of the breath, resulting in a wind instrument which can cater to the expressive needs of both beginners and experienced players alike.
Our Description
The new Yamaha YDS-150 is a breakthrough in digital wind instruments.
Intuitive, familiar, easy to use and almost as good as the real thing - and in many ways, better!
The first thing to note is that Yamaha are marketing this as a digital saxophone - not a wind synth, but an instrument targeted specifically at sax players. One of the biggest issues we've found with wind synths in the past is the steep learning curve - this is certainly not the case with the YDS-150. It feels and responds much like you would expect it to: no funny-shaped keys in unexpected places or over-complicated systems to navigate.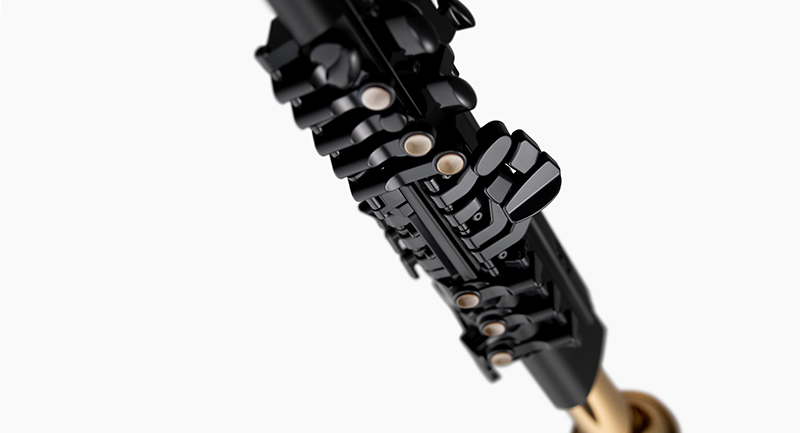 When you first pick up the YDS-150, one thing that you notice is how the keywork feels like a saxophone. Unlike other wind synths we've tried, the keys lie under your fingers, so a saxophone player will feel instantly at home. It's also evenly balanced and has enough 'weightiness' so that it feels solid, without being a heavy instrument.
The instrument uses an alto saxophone mouthpiece, but this (and the synthetic reed) are for feel only. You don't actually need the mouthpiece on there (you could blow directly into the tube and the sound will be the same), but it makes the instrument feel 'right'. Like a singer or flute player, vibrato is controlled using the diaphragm, rather than the lips.
It has a basic built-in monitor speaker so you can hear what you're playing, but the instrument comes into its own when connected to speakers or headphones. With headphones in, the instrument is totally silent: you can finally practice at 2am without disturbing the neighbours!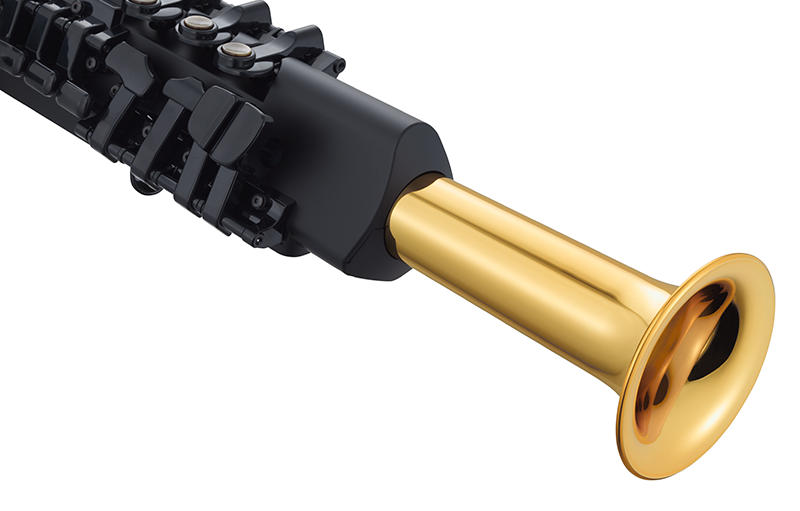 Probably the most striking aspect, visually at least, is the brass bell on this instrument. This is designed to give that resonance in your hands that you feel when playing an acoustic wind instrument, and it completes the feel of playing a 'real' instrument.
The sax has a Bluetooth smartphone app, which controls the sound of the sax (you've got soprillo down to bass with low A - in fact, 56 saxophone voices in all!), so this sax is great for using in ensemble practice or jamming when the baritone player can't make it. The sounds are the same used on Yamaha's top-end synths, and are incredible. There are a further 17 sounds (synths, flutes etc), but the focus is firmly on saxophones.
The smartphone app can also change settings on the instrument, such as the fingering (so you can programme your own altissimos), resistance and response, tuning, and add effects.
The ease of use, lightness, responsiveness, flexibility and great price make this an essential purchase for sax players, and any other player wanting to get started on the coolest of instruments!
Which stand?
Use with the K&M 15213 trumpet stand, Hercules DS440B clarinet stand or Hercules DS531BB soprano sax stand.
Specifications
Width: 110 mm
Height: 699 mm
Depth: 103 mm
Weight: 1kg not including batteries
Fingering: Same as saxophone, High-F#, Front-F, Low A
Connectivity:

Bluetooth to app
Headphones (stereo mini)
Aux In (stereo mini)
USB out (micro USB Type-B)

Power supply:

USB Power Adaptors: 5V/1A (micro USB Type-B)
Batteries (4 x AAA alkaline (LR3) or Ni-MH rechargeable (HR3) batteries)
What's Included
Case
Strap
Original mouthpiece
Original synthetic reed
Ligature
Mouthpiece cap
Owners manual
Spare O ring
Spare synthetic reed