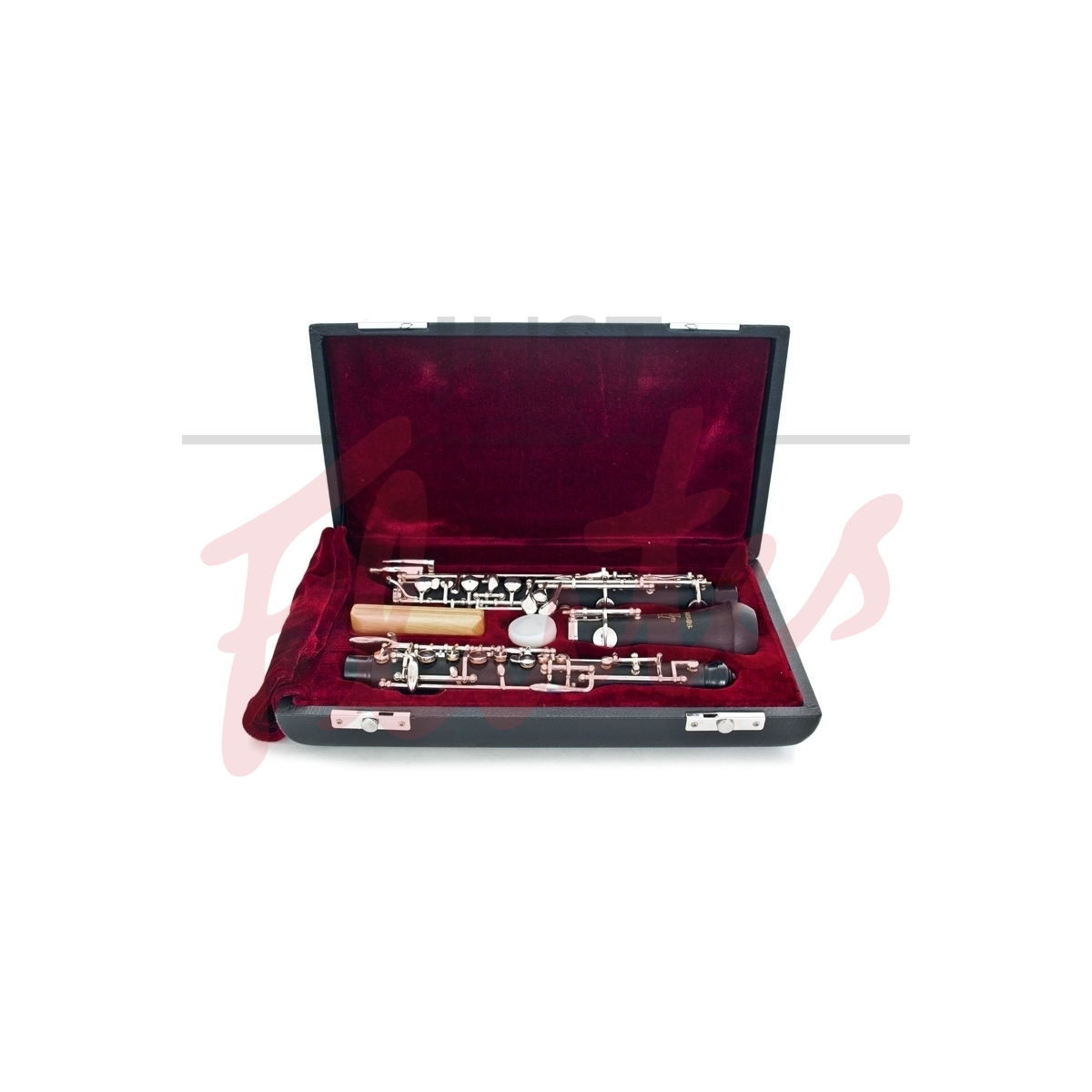 JP181 MKII Oboe
Perfect Performance Plan
Included with every new instrument:
Pre-Sale Set-Up

Owner's Check-Up

Three-Year Warranty
Our Description
Still the triumph of these instruments is that they really ring. The natural sound of them encourages a warm tone and the scale is even and smooth. They slur all the awkward intervals effortlessly and feel nicely stable.

The padding is now much more akin to that of an intermediate instrument with white leather pads on the low notes. These will give a better seal, are less noisy and will cause less trouble over time. The cork pads are thinner and less spongy and keywork has been vastly improved. The mechanism is now much neater and stronger with sensibly placed adjusting screws that don't require a screwdriver with the width of a leprechaun's finger nail and the leverage of a pickax to adjust, as some other makers of student instruments do... The 181 also seem to be up to pitch now where previously they were a little low.
Specifications
Hover over the styled text for a short definition, or click for a more detailed explanation.
ABS resin body
Silver-plated keys
Closed hole model with all covered holes
Semi-automatic octaves
Dual system
Left hand C-D trill
Left-hand F natural
Forked F vent
Double G#
Low Bb vent
Includes case and case cover, reed, reed case and cleaning accessories
Rent It
Rent this item for
£74.43 per month
---
Our Rental scheme is perfect for trying out a new instrument without committing to a purchase. Rent a brand new instrument and make affordable monthly payments - if you decide not to take it up, return it at any time. Ownership transfers to you after 18 months!
Rent a brand new, high-quality instrument

Affordable monthly payments

Return it at any time* if you choose not to carry on

Ownership transfers to you after 18 months

Receive your new instrument within 3 working days

Free secure delivery