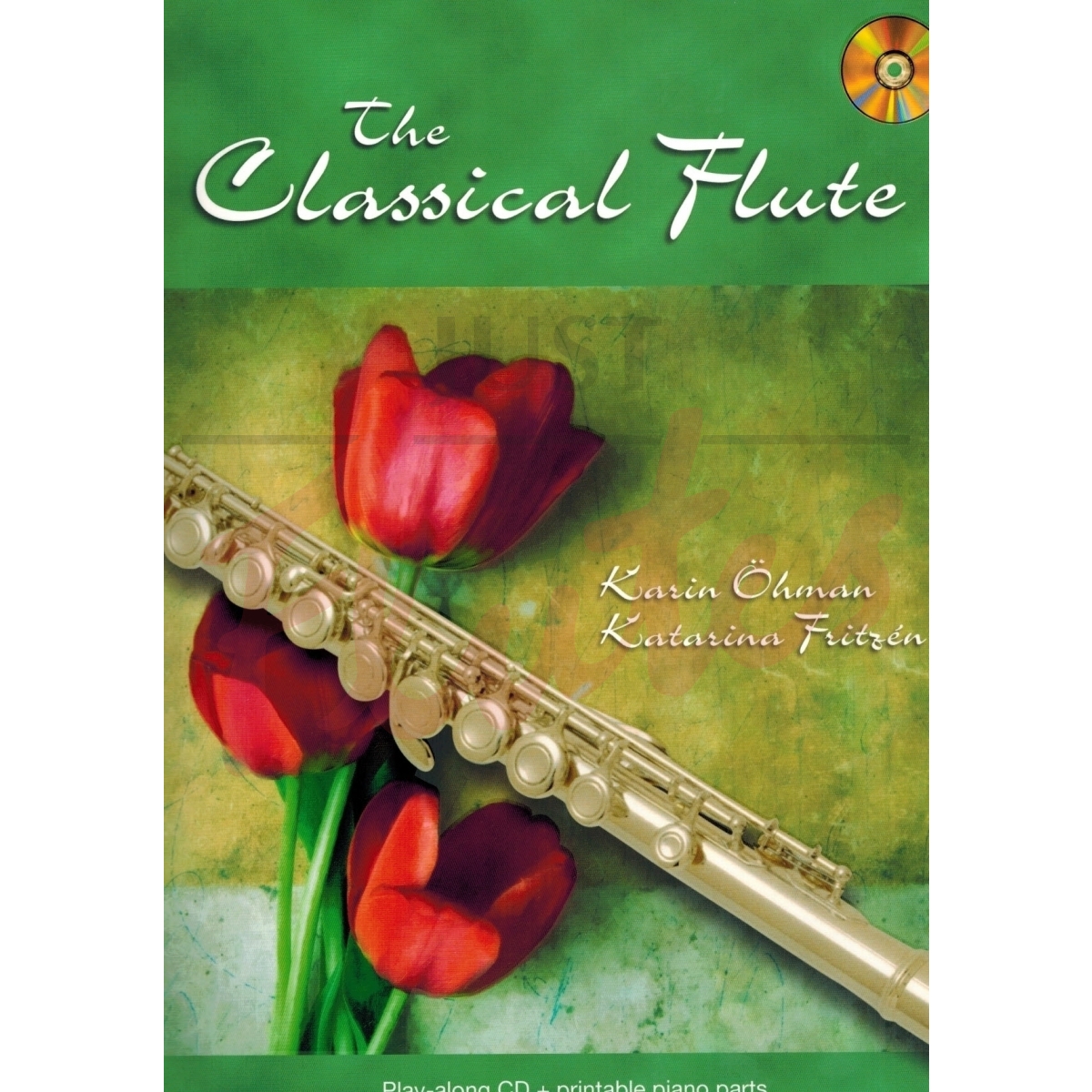 The Classical Flute (Printable piano parts)
Exceptional value for money
From the Publisher
"This book contains a selection of well-known classical pieces. Some were originally composed for flute and piano while others are presented here in new arrangements. Printable piano parts are included on the enhanced CD, and a chord analysis is added in most of the flute parts.
An explanation of the musical terms used is found in the back of the book. The piano accompaniments are recoreded on the accompanying CD."
Difficulty guide:
4-8
Difficulty level, roughly compared to ABRSM exam grades. 0 is beginner, 9 is advanced (beyond grade 8).
Contents
Adagio (fomr 3 duos for 2 flutes Op81) (Kuhlau)
Allegro (Vinci)
Andante KV545 (Mozart)
Andante in C (Mozart)
Arietta (Haydn)
Ave Maria (Bach)
Badinerie in B minor (fr Suite No2) (Bach)
Bourree Anglaise (fr Partita in A min for solo flute) (Bach)
Dance of the Blesed Spirit (Gluck)
Gavotte (Gossec)
Gavotte (Handel)
Gratulation (Paterson-Berger)
Gymnopedie No.1 (Satie)
Invention No. 1 C major (Bach)
Largo (fr Concerto for Piccolo in C major) (Vivaldi)
Little Dance (Haydn)
Minuet (fr Allegro & Minuet for 2 flutes) (Beethoven)
Minuet (Boccherini)
Moment Musical No.3 (Schubert)
Romance (Beethoven)
Rondo (fr 3 Duos for 2 Flutes Op81) (Kuhlau)
Scottish Dance (Beethoven)
Siciliano (von Paradis)
Siciliano (Gluck)
Siciliano (Bach)
Spring Song (Mendelssohn)
Summer song (Peterson-Berger)
Syrinx (Debussy)
Tambourin (Gossec)
Tamino's Area (Mozart)
The Fog is Lifting (Nielsen)
Waltz of the Flowers (Tchaikovsky)