Wonderful Winds Flute Days! - Leeds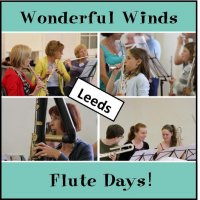 Wonderful Winds Flute Days! - Leeds
Saturday, 13 July, 10:00 - Sunday, 14 July 18:00
Where?
The School of Philosophy
64, Woodland Lane
Chapel Allerton
Leeds
LS7 4PD
Join Joss Campbell and Mel Orriss for one or two days of fabulous flute ensemble fun! Just Flutes and Wonderful Winds Trade Stands
Open to all ages and abilites. Sat: Grade 1-5, Sun: Grade 5-Dip. Warm-ups, Sound Workshop, Massed Flute Choir (including Piccolo, Alto, Bass and Contrabass Flutes), Chamber Music using the Wonderful Winds Library, Informal Concert.

Further information: PDF file