Trevor Wye International Summer Course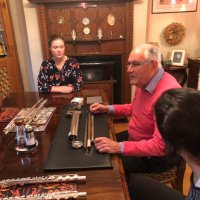 Trevor Wye International Summer Course
Tuesday, 18 August 2020 - Tuesday, 25 August 2020
A Small Masterclass Course with Trevor Wye for conservatory level players, aspiring performers, teachers and competent adult players. 5 - 6 hours tuition per day.
Solo Repertoire, Daily Exercises, Orchestral Repertoire, History, Library Archives Ensembles, Piccolo and Teaching Techniques.
Pianist : Anne Marshall
Assistant Tutor, Ensembles Coach, Piccolo and Pedagogy : Julie Wright.
Full Board Accommodation withing walking distance of The Studio.
julie.flute@icloud.com