Student Summer Camp for Flutes, Clarinets and Saxophones with Julie Wright and Nicholas Foster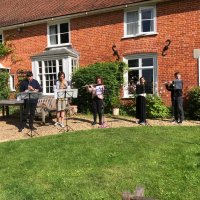 Student Summer Camp for Flutes, Clarinets and Saxophones with Julie Wright and Nicholas Foster
Thursday, 29 July 2021, 17:00 - Wednesday, 4 August 2021 12:00
Earls Hall, Cockfield, Bury St Edmunds, Suffolk
Flutes, Clarinets and Saxophones en Vacances with Julie Wright and Nicholas Foster
Our 12th UK Student Summer School at this, our favourite venue.
An intensive, friendly and fun 6 night course for students aged 8 - 18.
3 playing levels and 12 places only.
A fully supervised daily schedule, 24/7 pastoral care, recreational activities and home cooking, combined with top quality tuition.
Ensembles, Workshops, Individual help, Daily concert opportunities, Exam preparation, Sight reading and much more.
We guarantee a year's improvement in just one week.
Mobile 07922169122
email julie.flute@icloud.com