Roderick Seed Flute Retreat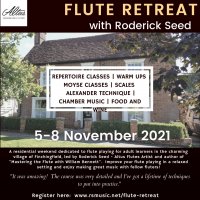 Roderick Seed Flute Retreat
Friday, 5 November 2021, 16:30 - Monday, 8 November 2021 10:00
A weekend retreat for flute players of all ages and abilities. Limited to 6 resident participant spaces.
Flute technique classes (tone, flexibility, intonation, fingers, breathing, scales). Finding courage through technique.
Repertoire classes with Rod and visiting Alexander Technique teacher.
Daily warm ups on resonance, breathing, flexibility, etc.
Chamber Music
Working on phrasing and music through books by Marcel Moyse (24 Little Melodic Studies, Tone Development)
Small class sizes (total of 6)
Peaceful location
Good food and drink!
Supportive, friendly environment to learn and inspire each other.
Private lessons (*optional extra- at a special retreat rate)