Native American Flute Workshop & Gong/Sound Bath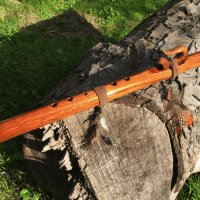 Native American Flute Workshop & Gong/Sound Bath
Sunday, 23 February 2020 -
West London, Greenford (5 min walk from Greenford station)
Greenford
1UK MAINLAND
NATIVE AMERICAN FLUTE WORKSHOP
The Native American flute is a very special instrument and easy to play. It won't take long before you are playing your own heartfelt music. It will help you unlock your natural creativity without having to spend years studying formal music or complicated techniques. It is also a healing tool that can take you into states of deep relaxation and help you connect with your emotions. Furthermore, it can help you improve your breathing, an essential aspect of flute playing. The Native American flute can be a transformative tool and a companion for life.
This beginner's workshop is an introduction to the Native American flute. The main objective is get familiar with the instrument, and learn about its origins, the way it works and its benefits. You will still be able to improvise some music at the end of the session.
The four-hour workshop will begin with 60 minutes of Movement and Pranayama exercises (breathing is essential in flute playing), followed by:
- Anatomy of the flute.
- Cultural context and some legends.
- Posture and breathing.
- Finger positioning.
- Pentatonic scale.
- Rhythm.
- Playing from the heart and playing from the mind.
- Some basic effects.
- Play in pairs (call-response).
- Types of flutes and keys.
- How to choose your flute.
- Taking care of your flute.
About your teacher:
Belén, has been playing the Native American flute for 10 years since attending a workshop in Madrid, her birth place. She now lives in Bristol where she has been giving flute workshops for three years. She also gives one-to-one sessions, both in person and online. She created a flute circle in Bristol which meets regularly to play music.
Furthermore, she is a certified sound therapist, organising regular group sound journeys as well as giving one-to-one treatments. Recently, she started co-creating retreats about nature connection, sound healing and flute.
To know more about Belén and her work, please visit her websites:
www.theenchantedflute.com
www.naturaltuning.com
SOUND BATH
Multiple studies and examples have shown how sound, frequency and vibration can alter physicality and can be used to heal a variety of ailments.
The modern working week with its non-stop barrage of emails, endless texts and the often oppressive demands of social media are enough to make most people want to turn the clock back to a simpler way of life and unwind.
But while time travel is not yet available, you now have the opportunity to immerse yourself in the relaxing and healing effects of ancient instruments dating back thousands of years.
Imagine letting waves of pure relaxation resonate through every atom of your being, letting yourself be gently transported to where there is no past and gaining an understanding of who and what you truly are as an indispensable part of existence.
Sound baths, when delivered by a practitioner's heartfelt empathy with the oneness of creation, can cleanse you of the fast-paced stresses of 21st century living.
We offer 90-minute sessions that begin with 30 minutes meditation that quietens thought and prepares you to embrace sounds said to carry the creative vibrations of the cosmos itself.
We will be using a combination of Symphonic, Chinese and Moon Gongs along with the Native American Flute, Overtone Singing, Shamanic Singing with Drums, Singing Bowls, a Sea Drum, and an Indian Harp.
All you need to bring is yourself (in comfortable clothes) and an open mind. Yoga mats, cushions and blankets will be provided.
I am just a 10-minute walk from Greenford tube station on the Central Line. Street parking is freely available if you are driving.
Many of those who have surrendered themselves to these sessions have spoken of a sense of inner spaciousness and lightness afterwards, with complete freedom from stress, much more energy and a sense of inner balance.
About us:
Jyoti, who runs Moksha Sound Bath, is a fully qualified yoga instructor, meditation teacher, Reiki Master and Gong Master. Belan and Jyoti will be leading the sound bath together.
I also do group and 1-2-1 sound bath/therapy sessions at this location and run weekend residential meditation retreats in Amersham. Please visit www.osho-sakshi.co.uk
Belén is a certified sound therapist and a Native American flute player. She gives regular group sound journeys as well as one-to-one treatments. She also gives Native American flute workshops. Recently, she started co-creating retreats about nature connection, sound healing and flute. Please visit www.naturaltuning.com.

PRACTICAL ASPECTS:
Venue: Both the Flute Workshop and the Sound Bath will be held at the Greenford location. Full details will be provided upon payment.
Please note: Spaces are limited to 10 people.
Flutes: Flutes will be provided to those who need them. You will be able to buy a basic flute at the end of the workshop for £85, should you wish to do so. For higher quality flutes, Belén can give you contact details of flute makers she works with.
Date: Sunday, 23rd February
FLUTE WORKSHOP: 11 am - 4 pm (including one-hour lunch break).
MEDITATION AND SOUND BATH: 4:30 - 6 pm
Investment: £70
Alternatively, you can attend just the flute workshop for £50 or the sound bath on its own for £25. We are also offering an Early Bird Discount for those attending both events. It will cost £65 but you will have to book before 7th February.
Vegan soup and bread will be provided although you are welcome to bring your own packed lunch.
Tea, coffee, herbal drinks and snacks will also be available.
To book, please message/call Jyoti Howe on 07894 159 237 or
jyoti.howe@yahoo.co.uk.
Love & Blessings
Belén & Jyoti