Fluting with Friends: Tone workshop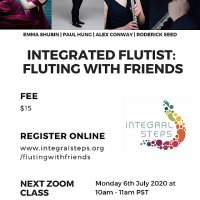 Fluting with Friends: Tone workshop
Monday, 6 July 2020, 18:00
Exercises and discussions on tone, led by the flute faculty of The Integrated Flutist: Roderick Seed, Emma Shubin, Alex Conway, and Paul Hung. Opportunities to try out different exercises. Taking place on Zoom. There will be more classes to follow on different flute topics.
There will be a Q&A at the end for any tone-related questions you have.
We look forward to seeing you soon.