Flutewise at Woldingham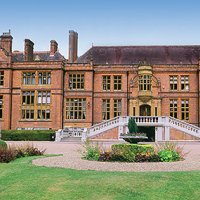 Monday, 8 April, 16:00 - Thursday, 11 April 16:00
Where?
Woldingham School
Marden Park
Woldingham
CR3 7YA
1UK MAINLAND
If you are a really keen flute player and want to improve your marks in your next exam, whether it is a Grade exam, diploma, GCSE, AS or A level, this course is for you! You will receive expert tuition with lots of opportunity to work on all aspects of your performance skills to really build confidence.
Woldingham School is a magical venue set in 700 acre estate within the Surrey Downs, close to the M25. The train station in the grounds provides a 35-minute connection to central London. Gatwick and Heathrow Airports are 20 and 45 minutes away respectively and junction 6 on the M25 is only ten minutes' drive from the School.
We sleep in the 6th form house, where we will enjoy en suite accommodation. Our meals are taken in Marden House where the food is excellent and special diets can be catered for. All of our work takes place in the Millennium Centre which has a stunning concert hall, recital room and foyers.
The course starts at 16.00 on Monday 8 April and ends at 16.00 on Thursday 11 April. There will be a short concert for parents and friends on Thursday 11 April at 15.00.
WHAT WE DO ON THE COURSE. A TYPICAL DAY MIGHT BE:
08.00Breakfast
09.00Warm up followed by massed ensemble playing
10.30Break
11.00Workshops
12.30 Lunch
13.15 Small ensemble groups and/or working with our pianist
15.00 Break
15.15 Outside game (Flutewise Rounders is famous!) or a walk
16.00 Concert (course members or staff or visiting guest)
17.00 Scale game (devised by Abbie Burrows – and, yes, everyone is more than willing to play their scales at this, or any, time of day if it is the Scale Game!)
18.00 Dinner
19.00 Concert (staff or visiting guest)
20.00 Game or other social activity
We aim to keep everyone very busy! There will be emphasis on this course to really improve your playing standard and confidence in performing.
Places are booking fast - so hurry and reserve your place if you would like to come