Flute Holiday with Philippa Davies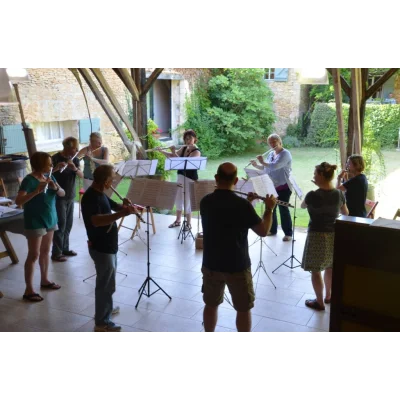 Flute Holiday with Philippa Davies
Tuesday, 22 August 2023, 18:00 - Monday, 28 August 2023 10:00
This well established Flute Summer Course is for advanced flute players, grade 8 plus, who would like an enjoyable week improving flute playing and chamber music skills, in a relaxed, fun, supportive and beautiful environment.
Philippa Davies is an exceptional player and teacher. She performs regularly as a soloist around the globe and is a professor at the Guildhall School of Music and Drama.
Philippa Davies and Jan Willem Nelleke will give a concert in a local church during the week. This is always a fabulous event and is very much enjoyed by the local inhabitants too. There will be an informal concert by course participants, to an invited audience, at the end of the course.
PRICES (6 nights)
Course Participant: [includes tuition, accommodation, meals and wine with supper]
930€ – Single Room
750€ – Shared Twin Room (sharing with someone specific you have agreed to share with)
750€ – Cubertou Bell Tent (sole occupant)
570€ – Bring your own Tent
Non Participant companion: [includes meals and wine with supper]
570€ – Shared Twin Room
Arrival / Departure
Participants should aim to arrive after 18:00 on the first day and depart before 10:30 on the last day. There is some information about travel options on our Getting To Cubertou page.