Flute Fantastic!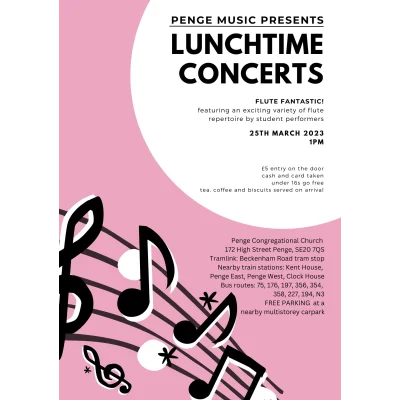 Flute Fantastic!
Saturday, 25 March 2023, 13:00
Penge Congregational Church
Showcasing an exciting variety of flute repertiore by advanced student performers. Programme will feature Baroque, Classical, Romantic and 20th Century flute music.
£5 admission on the door, cash or card and light refreshments are served on arrival.
Under 16s go free.
• By car: free parking in Sainsburys next door or 200 free parking spaces in the Blenheim Centre (some restrictions may apply)
• Trains: walking distance from Kent House, Clock House, Penge East, Penge West stations
• Bus: On the bus route for 227, 358, 194, 176, 75, 197, 356, 354, N3
• Tram: walking distance from Beckenham Road stop