The British Flute Society 2012 International Convention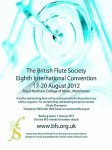 Royal Northern College of Music, Manchester, M13 9RD
Events will include:
world-class recitals
a chance to meet the top players. Be inspired and pick up performance tips
professional development sessions for teachers
flute choirs for all
flute competition for adult amateurs
flute-related health and well-being workshops
trade high street and demonstrations
or catch up with old friends and make new ones.
All under one roof with accommodation just 2 minutes' walk away!
Don't miss it!
Open to all BFS members, BFS conventions have a unique atmosphere with so much to offer.
Follow @bfsconvention on Twitter for the latest updates
Visit event website (Opens in a new window)