Christmas Flute Choir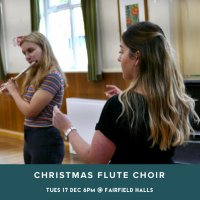 Tuesday, 17 December 2019, 18:00
Join us for an evening of Christmas cheer as we come together for the first time as a flute ensemble at Fairfield Halls. Take a break from the hectic lead up to the big day with group Christmas themed warm ups and lots of fun arrangements of well known Christmas tunes.

The evening is suited to all ages and abilities. If you are just starting out or have been playing the flute for a while, we would love to see you! There will be music appropriate to all standards from beginners to advanced.
All you need is your flute, music will be provided on the evening! £15 per attendee.
Please email Bethany at bn.music@hotmail.com to find out more.