ad agio: workshops for musicians to bring ease to your playing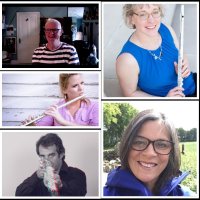 ad agio: workshops for musicians to bring ease to your playing
Saturday, 3 October 2020, 14:00 - Saturday, 31 October 2020 17:00
ad agio ('at ease') is a workshop series aimed at musicians to help you play and perform in a more relaxed and comfortable way, both physically and mentally. Our October series of online workshops are hosted by four flautists from the UK and USA with expertise in strength training for musicians, meditation and mindfulness, Bodymapping, and EFT/ mindfulness approaches to performance anxiety. All workshops run from 2-5pm on Zoom.
Saturday 10th October: Becoming Music Strong with Angela McCuiston
Saturday 17th October: Meditation, mindfulness, self hypnosis and much more, strategies to unhook yourself from that pesky inner voice! with Jean-Paul Wright of 'The Happy Flutist'
Saturday 24th October: What Every Musician Needs to Know About the Body® with Kelly Mollnow Wilson
Saturday 31st October: AndBreathe - performance anxiety, exam nerves and creating a more positive approach with Gillian Watt

These workshops are for all musicians aged 18+, of all levels, instruments and genres. Workshops cost £25 per participant, with discounts for booking all the workshops in one series together.