35th William Bennett International Flute Summer School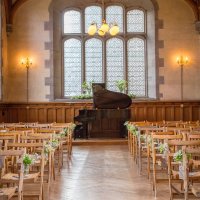 35th William Bennett International Flute Summer School
Sunday, 19 July 2020 - Sunday, 26 July 2020
Strathallan School
Forgandenny, Perth PH2 9EG
Perth
PH2 9EG
1UK MAINLAND
This is the 35th year of this most inspired and popular residential course which will take place in the Strathallan School in Scotland which is very near the wonderful city of Edinburgh and Perth UK, by Internationally acclaimed flutist William Bennett and Lorna McGhee. Instruction will be offered to player of all levels.

*Individual lessons and classes given by several assistants.
*Master class sessions will be held in the mornings and afternoons by William Bennett and Lorna McGhee.

There will be a class given by William Bennett on Marcel Moyse 24 little melodic studies which we consider to be the most important work to lay the foundations of good articulation, phrase building, and developing the use of different colours.
Flute Basics classes in afternoon, Michie Bennett, Ji Young Kim, Alyse Faith will give a basic class to tone production, pitch control and flexibility. We encourage a very friendly and non competitive atmosphere.

Further information: PDF file