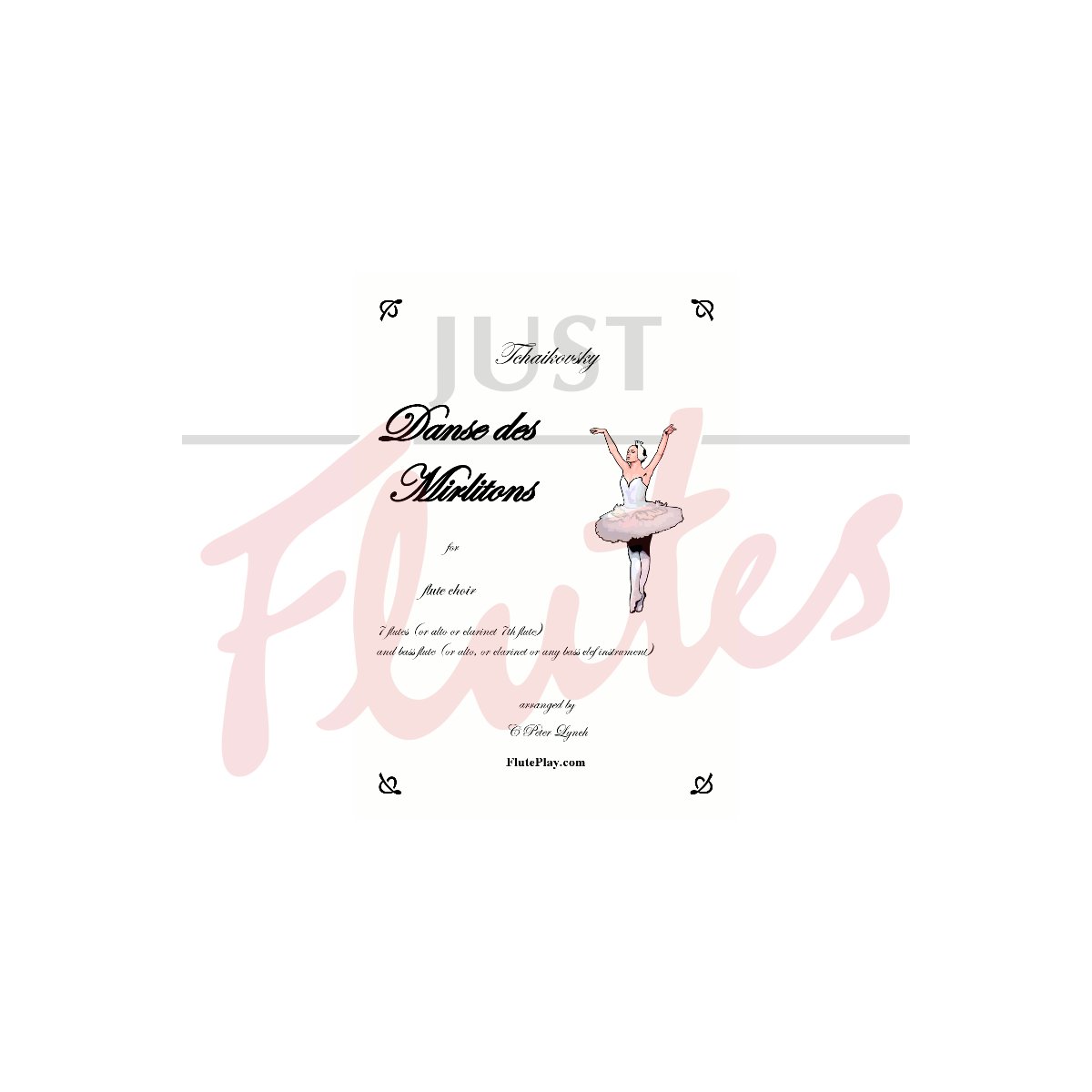 Dance of the Mirlitons [Flute Choir]
Exceptional value for money
From the Publisher
Tchaikovsky's early career was as a clerk but in 1865, after lessons in orchestration from Anton Rubinstein he was made professor of harmony at Moscow Conservatoire. He was able to pursue composition thanks to financial support from Nadezhda von Meck, though he never met her. After a disastrous marriage he resigned his post at the Conservatoire to move to the country where he devoted himself entirely to composition. His fame gradually spread and by 1890, with the Bbm Piano Concerto and Sleeping Beauty behind him, he was financially independent. He visited the United States and England in the following years, but within nine days of the first performance of the Symphonie Pathétique in 1893 he was dead; it has recently been suggested that he poisoned himself to avoid homosexual scandal.
Tchaikovsky's large output was mainly orchestral. Danse des Mirlitons comes from the Nutcracker (Casse Noisette) ballet. Its title is often left in the original French as the most faithful translation of Mirliton would be either Eunuch Flute or Kazoo! It is a play on words, too, since the Nutcracker Mirlitons are also a kind of pastry.
This arrangement keeps the music of the three solo flutes of the orchestral original, though here it is shared about. It has a standard of around Grade VII. The remaining music, which varies from Grades V to VI level, is distributed in a similarly egalitarian manner. Performance suggestions, including alternative fingerings for top notes and spatial disposition to exploit the antiphonal character, are given in the score.
Performance duration (approx): 2'40"
Difficulty guide:
7
Difficulty level, roughly compared to ABRSM exam grades. 0 is beginner, 9 is advanced (beyond grade 8).
Item Details
Instrumentation
Part 1: Flute
Part 2: Flute
Part 3: Flute
Part 4: Flute
Part 5: Flute
Part 6: Flute
Part 7: Alto Flute or Flute or Bb Clarinet
Part 8: Bass Flute or Alto Flute or Bb Clarinet
Category:
Flute Choir Music: 8 Mixed Flutes
Publisher:
FlutePlay
Publisher's reference:
CD155
Our Stock Code:
903721
Media Type:
Paperback - Score and parts