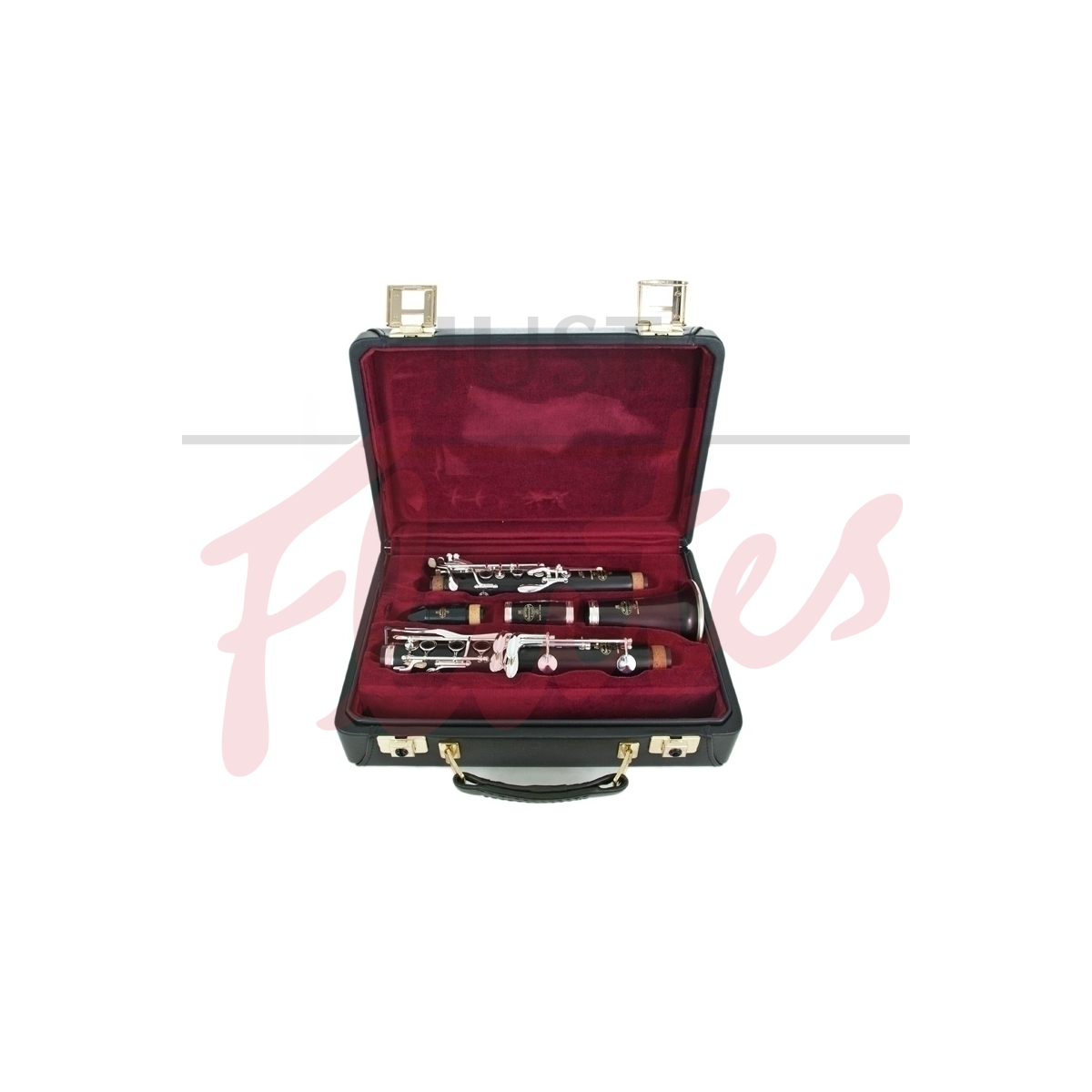 Buffet-Crampon BC1114-2-0 RC Bb Clarinet
New international CITES regulations on certain wood items require export licences on sales outside the EU.
Further information
Perfect Performance Plan
Included with every new instrument:
Pre-Sale Set-Up

Owner's Check-Up

Three-Year Warranty
Our Description
Buffet Professional Clarinet Models - Spot The Difference!
Buffet produce a large range of clarinets at the top level and it can get confusing what the differences are between them.
The R13 is the most popular professional-level clarinet. Players tend to find that this produces a bright sound with good projection.
The RC is basically the same as the R13, apart from the bore (the bottom joint is conical rather than polycylindrical). This gives the clarinet a different flavour with a darker sound.
The Prestige models use the same bore style as the R13 or RC, but use higher-grade wood, which (a) gives better projection with more tone control, and (b) is less likely to crack. In addition. the bore is hand-burnished, giving greater precision. This is important, as the bore is vital to good tuning. These models have reinforced tenons for added strength and upgraded Gore-Tex pads.
The Vintage has the same features as the Prestige models, with a wider bore design (in fact it uses the original R13 design from the 1950s - hence the "Vintage" name). The clarinet is responsive with a warm sound.
The Festival is very similar to the R13 Prestige but is supplied with two barrels; the barrel length is slightly different and the tone holes are moved slightly, both for improved tuning.
The Tosca is the top model; this has a unique bore design, modified ergonomic keywork and right hand low F correction key. It also has raised C# and G# tone holes to prevent water building up in these. Full, rich sound.
Specifications
Hover over the styled text for a short definition, or click for a more detailed explanation.
BC1111-2-0 "RC" Bb clarinet
Hand-selected Grenadilla-wood body
Power forged keywork, preplated in copper and finished in silver plate
.925 solid bell ring
Blue steel springs
Adjustable thumb rest
Bore: Poly-cylindrical upper joint, conical lower joint & bell
Not supplied with a mouthpiece to allow the player to find their own perfect mouthpiece combination
Includes Buffet 'Harmony' ligature and cap, one reed, cleaning accessories and leather-bound double clarinet case
Also available in Green Line at the same price
Also available as an A clarinet
Item Details
Manufacturer:
Buffet-Crampon
Model number:
BC1114-2-0
Category:
Bb Clarinets