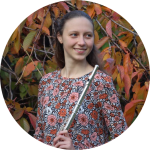 Jessica Scott
London N19
Profile last updated: 3 Aug 2021
Hello! I am an Australian musician currently completing a Master of Arts in flute performance at the Royal Academy of Music, London.
With seven years of teaching experience, I have worked across multiple public, private and music schools as an approved tutor, in addition to running my own flute studio in Sydney, Australia. I offer flute lessons for examination purposes, technical development, in support of ensemble playing, or learning for leisure.
As a tutor, I am passionate about creating online and written resources for students. In 2021, a collaboration with composer Rosalind Carlson OAM saw the creation of a new book, Arcadian Melodies, dedicated to my flute and saxophone students. Resources for online lessons include play-along tracks and video tutorials.
As a teacher, I place an emphasis on creativity and problem-solving skills. Students are encouraged to try their hand at writing their own music and improvisation in addition to their technical development.
What I teach:
Where I teach
I teach online
I can travel to you
Qualifications
Fees
30 minutes: £20.00
60 minutes: £40.00