La Flute Harmonique
La Flute Harmonique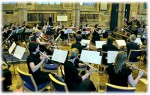 La Flute Harmonique
In 2004 Russell Gillespie founded "La Flûte Harmonique", a flute choir, to encourage and offer flautists over the age of 21 the opportunity to gain experience in ensemble playing. Now well-established "La Flûte Harmonique" has proved to be most successful with a varied and diverse membership from throughout the North West and surrounding areas of the United Kingdom.


"La Flûte Harmonique" now embraces four flute choirs. In 2008 the Auxiliary Choir was formed in order to provide less experienced adult flautists with the opportunity to enjoy the benefits of playing in an Ensemble. In 2009 the LFH Youth Choir was launched with the LFH Auxiliary Youth Choir completeing the full range of ages and abilities within LFH from 2013.
Rehearsals
Performances
LFH performs two major Concerts each year along with three informal Friends & Family Concerts to promote individual solo and ensemble opportunities.
Membership: £66.00 (per year)
Players
Children
Teenagers
Adults
Between Grades 0 and 9
Contact:
Barbara Whitehead: 01270 812607 (Please remember to mention Just Flutes when you call.)