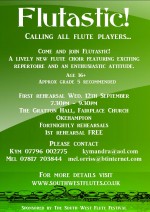 Flutastic!
This new and exciting group gives players a chance to meet and have fun playing exciting repertoire on flutes, including Bass, Alto and Picc. We are a friendly and welcoming group..mostly adults at the moment but keen to include younger players. If you have a flute sitting in the cupboard and want a chance to play it again, or just want to experience a different kind of ensemble playing, get in touch or come along!
Rehearsals
Fortnightly at Gratton Hall, Fairplace Church, Okehampton
Postcode EX20
Performances
A new group, keen to perform.
Membership: £20.00 (per term)
Players
Teenagers
Adults
Between Grades 4 and Post Grade 8
Contact:
Mel Orriss: 07817 703844 (Please remember to mention Just Flutes when you call)