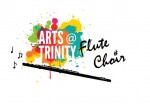 The Chamäleon Flute Ensemble
The Flute Choir was founded as the [email protected] Flute Choir in 2015. I had been running a Flute Choir within College for the students, that finished when I graduated.
Since [email protected]'s closure in the summer of 2018, we have renamed ourselves as the Chamäleon Flute Ensemble, but we are still the same bunch of people!
We rehearse at St Matthias in Burley, Leeds, in the church hall and we can hold concerts in the main church, which makes for a lovely venue!
Our members are a mix of music students, amateurs and some professionals that all have the love of flute and music in common.​​
We play a wide variety of repertoire including classical, world and pop music. Everyone is welcome to make suggestions and we sometimes also premiere new works and arrangements.
We play at least two concerts a year that we programme ourselves, apart from outside concerts that we are invited to play at.
We not only play on concert flutes but also piccolos, alto and bass flutes.
Rehearsals
Weekly at [email protected] Holy Trinity Church Boar Lane Leeds
Postcode LS1
Performances
At least twice a year.
Membership: £10.00 (per month)
Players
Children
Teenagers
Adults
Between Grades 4 and Post Grade 8
Contact:
Laura Kox: 07935883521 (Please remember to mention Just Flutes when you call)